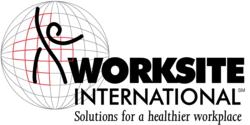 "Prevention Pays Big Time! When people report their discomfort early, the more money companies save through participatory ergonomics."
Monterey, CA (PRWEB) February 07, 2012
Alison Heller-Ono, President and CEO of Worksite International Inc., will present as the international keynote speaker at the 13th Annual National Workers' Compensation Summit 2012 in Melbourne, Australia (http://www.nationalworkerscomp.com.au). The conference is sponsored by IIR Conferences, (http://www.iir.com.au). On Feb. 20, 2012, Ms. Heller-Ono will present the strategy and benefits of an ergonomics process in preventing and managing work injuries. Her presentation, "Building a Safe and Healthy Work Culture through Participatory Ergonomics," will focus on the critical factors necessary to launch a proactive, collaborative ergonomics process that drives positive changes in any organization. Her presentation will highlight a three (3) year case study of using the Worksite International ergonomics process showing dramatic reduction in repetitive motion injuries resulting in significant cost and claims reductions in workers' compensation for a government entity with 4,500 employees. With over 550 injuries prevented through early intervention, the projected savings amount to over $8.3 million dollars in workers' compensation costs. The average 3 year return on investment is $16.50 saved for every $1.00 invested in the process.
###