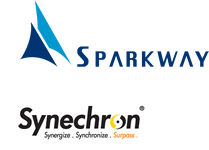 Clients can now add or remove virtual staff at will
(PRWEB) February 08, 2012
Sparkway and Synechron have partnered to provide a more effective way to bring software products to market. Modeled on the way cloud services are delivered, clients can now add or remove virtual staff at will. A project CTO aligns the technology teams with the client for turnkey management.
The service focuses on the Ruby on Rails development platform for its tight integration with agile methodologies and also includes diverse talent across mobile, PHP, .NET, Java, C/C++ and other technologies. Remote application and infrastructure teams provide 24/7 support and monitoring.
According to Sparkway CEO, Jeff Marcus, "Companies get mired in the old model of finding, managing and retaining tech staff. To compete in today's hyper-evolving markets, they need flexible access to skills and headcount, akin to simply adding another server to the cloud."
Faisal Hussain, Synechron's CEO, says, "Although technology is complex, managing resources and aligning with business requirements is even more challenging. We've solved this with the right people and the best agile methodologies."
About Sparkway:
Sparkway provides world-class CTO services and tactical development teams that bring solutions to market quickly and cost effectively. It was founded by Internet pioneer, Jeff Marcus, who has a history of global technology leadership including CTO of 24/7 Real Media and executive roles at Mirror Image, DoubleClick and JvNCnet - one of the supercomputer nodes of the original Internet. Jeff has architected the Sparkway development methodology and acts as virtual CTO for some of its clients. For more information about Sparkway, visit http://www.sparkway.com.
About Synechron:
Synechron is a global leader in architecting and developing IT-powered strategies and capabilities for emerging and evolving businesses across industries.
Synechron was founded in 2001 as a privately owned company with global offices in New Jersey, Connecticut, Charlotte, Denver, Nashville, San Diego, Canada, London, Amsterdam, Tokyo, Singapore, and Dubai. Synechron's global delivery centers work in tandem with its two state-of-the-art Global Development Centers based in Pune, India. For more information about Synechron, visit http://www.synechron.com.
###