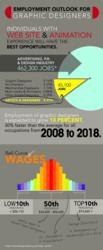 Employment of graphic designers is expected to grow 13% from 2008 to 2018, 30% faster than the national average.
Dallas, TX (PRWEB) February 08, 2012
According to GraphicDesign.com, the advertising, public relations, and design industry encompasses nearly a half-million jobs. Remember, unemployment is still elevated, but having a background as an artist or designer means access to over 45,000 of those jobs, which is nothing to sneeze at.
Employment of graphic designers is expected to grow 13% from 2008 to 2018, 30% faster than the national average. In fact, only the medical field and a few other professions are expected to expand at a faster rate.
When graphic designers hit the work force, they can expect to reap elevated wages. For example, entry level and staff level designers can pull in between $32,000 and $57,000 per year, the 50th percentile when it comes to wages. Freelancers and senior designers can earn even more, and design directors can often find themselves in the 90th percentile or above in terms of wages at better than $74,000.
Aspiring members of the graphic design industry can visit GraphicDesign.com, which recently announced several new additions to its prestigious Advisory Board.
First up is writer and Advisory Board member Neil Tortorella, who told GraphicDesign.com what advice he'd give to a college graduate looking for his first graphic design job: "Companies today are looking for experience and a litany of skill sets, often beyond graphic design. Social media and portfolio sites such as LinkedIn and Coroflot are good points to begin to get on the radar screen. I've heard of a few people who found work via Twitter and Facebook."
Rod Berg, who has a strong international background as a design professional and educator and has worked at Parsons for nine years, will also join the Advisory Board. Berg told GraphicDesign.com which areas of the expanding industry he'd pursue: "The best fields within graphic design would be iPad design, app design, and website design. Areas of design that fall within the more traditional origins of graphic design which are good avenues to explore would be branding, package design, and informational design."
Others joining the GraphicDesign.com Advisory Council include Nick Grant and Amy Balliett. The latter founded Killer Infographics, a Seattle-based infographic design agency. Chris Zuwada, creator of leading packaging design website LovelyPackage.com and Design Director for TAXI West will jump onboard the GraphicDesign.com team as a member of the Advisory Board alongside Dan Rubin, who as well as having a strong background in design, typography, and layout practices is a writer and speaker at various international conferences.
Rounding out the newest additions to the Advisory Board are Ilene Strizver, Shahrouz Varshabi, Preston Lee (advisory board member and writer) and Rodney Durso. If others out there have a record of leadership and experience within the graphic design industry and are interested in being considered for participation in the GraphicDesign.com Advisory Council, please contact Julia at graphicdesign dot com. Only serious applicants will be considered.
ABOUT GRAPHICDESIGN.COM
GraphicDesign.com is a product of Terran Marketing and a leading source of news and information devoted entirely to the graphic design industry. Employers, students, and freelancers come to GraphicDesign.com to read and discuss current news, information, and events in the graphic design industry.
###