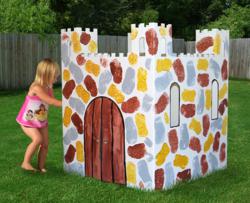 Not only does the playhouse store easily, but the playhouse itself is like one giant coloring book. — John Behar, Co-Hose of ABC's 'The View' and TV personality.
Lansing, Michigan (PRWEB) February 08, 2012
Easy Playhouse chooses the upcoming 109th Annual American International Toy Fair® as the perfect place for the official debut of its newest design, the exclusive reversible Castle playhouse for kids. The event — the largest toy and youth product marketplace in the Western Hemisphere — will be held February 12-15 at The Javits Center in New York City.
Easy Playhouse was founded by two Dads looking to use arts and crafts to help their kids get back to the basics. "It's our intention to give kids alternatives to television and video games," said Dean Thelen, company Founder.
The company is dedicated to providing unique, creative play solutions that inspire the imagination of the leaders of tomorrow. Easy Playhouse launched the company in November 2010 in Michigan. Their products are now carried across the country in independent toy stores, online stores and children's centers.
Television personality Joy Behar has chosen Easy Playhouse to entertain her own grandson. "Trust me, your baby won't get bored with this. They'll get tired first! I mean they have to color four walls, a door, a window and the whole roof – and don't forget to multiply that by two because this thing is reversible. Not only does the playhouse store easily, but the playhouse itself is like one giant coloring book," said Behar.
Easy Playhouse offers the most versatile, eco-friendly playhouse products on the market, as well as good old time fun. These are the only reversible playhouses that serve as a kid's craft activity and provide a safe play environment for your children.
Easy Playhouse's reversible design offers twice the creativity and twice the fun! Watch the kids use their little hands and big imaginations to create a place of their very own. Our playhouses have only two pieces that can be assembled in 5 minutes or less. We also provide a safety wave cut on all edges for child safety. "Our products are made in the USA, made of recycled material and are 100% recyclable," said Scott Flint, company Founder.
Features:

Easy to assemble
Sturdy & durable
Safety wave cut edges
Gift for all occasions
Great party activity
Endless Entertainment
Decorate with markers, crayons, paints or stickers
Patent pending reversible design
###