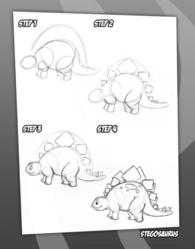 Children can now use the iPad to learn to draw dinosaurs.
Flanders, NJ (PRWEB) February 09, 2012
"How to Draw Dinosaurs" An iBook by JMG Studios is available for download on the iTunes store. How to draw Dinosaurs, is a step by step drawing book kids will love and enjoy. With over 32 different Dinosaurs children will have hours of fun.
JMG Studios drawing books help develop young artists, and strengthen more advanced artists. Young budding artists will spend hours drawing and enjoying what they have created. Currently you can choose from two drawing books, "How to Draw Dinosaurs," and "How to Draw Fish." The Studio is currently working on two additional books. "How to Draw Animals," and "How to Draw and Color Butterflies."
With 15 years teaching kids from Pre-K to college and traveling to schools and events, John-Marc Grob has always enjoyed teaching. JMG Studio is working on several DVD classes too. More great books are coming from JMG Studio soon.
About JMG Studio. JMG Studio creates children's books for print and for the iPhone. They have partnered with Memory Cross, Inc to create cards such as the ABC Flash cards with companion apps which are also available on the iTunes app store.
###