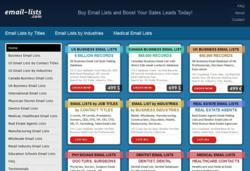 Buy Email Lists and boost sales today.
San Jose, CA (PRWEB) February 09, 2012
Email-Lists.com, a recognized leader in providing bulk email lists as well as position and industry-targeted email lists, has today announced that new 2012 email lists by contact title and by industry are available for users. Email-Lists.com has earned a reputation of excellence for their commitment to ensuring accuracy, quality, freshness and price for marketers needing to buy email lists.
Ensuring marketing success in today's world is no easy feat. Competition is fierce today, and marketers need every possible advantage in order to ensure that their message reaches its intended audience. Email-Lists.com provides an innovative means of achieving that goal by providing bulk email lists for any marketing campaign. For instance, marketers can buy email lists by company position – Email-Lists.com offers bulk email lists such as CFO email lists, CEO email lists, COO email lists, account VP email lists, marketing VP email lists and much more.
However, Email-Lists.com does not constrain their offerings to these options alone. The company also makes industry bulk email lists available to their customers. For example, users can buy email lists for automotive dealerships, for jewelry store decision makers, furniture manufacturers, mining and smelting industries and more. This ensures that marketers are able to reach exactly the target market they need for success.
Finally, users of Email-Lists.com will find that they have access to email lists from around the world, including the United States, the UK and more. Canada, Dubai, and even Chinese business mailing lists are available.
Of course, Email-Lists.com guarantees that all bulk email lists are accurate, up to date and contain authentic information to maximize marketing results. It has never been simpler to ensure maximum ROI for any type of marketing campaign. In addition, all bulk business mailing lists include the contact person's full name, email address, physical address and phone number.
To find out more about the business mailing lists on offer or how Email-Lists.com can help boost marketing ROI, visit http://www.Email-Lists.com.
About Email-Lists.com: Email-Lists.com is dedicated to providing customers with the means to connect with business decision makers within industries around the world. With industry email lists, executive and high-level position email databases, it has never been easier to connect and maximize marketing and communications value.
###