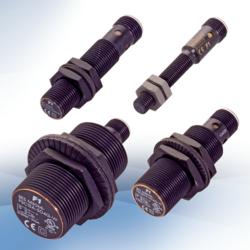 Florence, KY (PRWEB) February 08, 2012
Balluff expands its popular Factor 1 series of inductive proximity sensors to now include a weld immune Factor 1+ version with longer sensing distances. Factor 1+ sensors incorporate a multi coil design that enables them to sense all metals – both ferrous and non-ferrous – at the same distance without the need to de-rate the sensing distance based on target material. These sensors are ideal for use in applications where sensors encounter high levels of magnetic interference from sources such as transformers, motors, drives, or welders.
Features:

Greater switching distances for increased performance
Saves time during installation because adjustments are minimal
Greater reliability, even if the detected objects vibrate
Housing and sensor identification optimized to meet requirements in the automobile industry
Ideal for applications where various metallic targets are used (steel, AL, CuZn and Cu)
Factor 1 sensors were designed with welding applications specifically in mind. The PTFE coating helps protect the sensor from weld slag and weld flash generated during the welding process. Beyond their enhanced application flexibility, Balluff Factor 1+ sensors also provide the opportunity to standardize on a smaller number of sensor designs, which can lower supply chain and tool crib stocking costs, especially for welding operations.
For more information on Balluff Factor 1 and other inductive sensors, visit: http://www.balluff.com/inductives
Editors: To download the high resolution press images, click here
Balluff Inc., the U.S. subsidiary of Balluff GmbH, Neuhausen, Germany, is a leading manufacturer of a wide range of inductive, photoelectric, vision, capacitive and magnetic sensors as well as linear position transducers, RFID systems, and networking products. Balluff products for OEM and factory floor solutions are used to control, regulate, automate, assemble, position, and monitor manufacturing, assembly, and packaging sequences for industries including: metalworking, automotive, plastics, material handling, wood processing, aerospace, alternative energy, medical, electrical, and electronics.
Editors: please contact Kelly Panko at 1-800-543-8390 for clarifications and additional information e-mail kelly(dot)panko(at)balluff(dot)com
Direct reader service inquiries to: Kelly Panko, Balluff Inc, 8125 Holton Drive, Florence, KY, Phone 1-800-543-8390, or http://www.balluff.com
In Canada only, contact Norman J. Clarke, President, Balluff Canada, 2840 Argentia Road, Unit # 2, Mississauga, ON L5N 8G4, Phone 1-800-927-9654 or Tel: 905-816-1494, 905-816-1411, E-mail: balluff(dot)canada(at)balluff(dot)ca
# # #