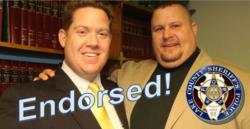 He has the strongest qualifications having been both a criminal prosecutor and defense attorney, as well as his civil and municipal experience
Lake County, Illinois (PRWEB) February 07, 2012
Mike Nerheim, Republican candidate for Lake County State's Attorney, has been unanimously endorsed by the Lake County Sheriff's Police, Fraternal Order of Police Lodge 66. The Lake County Sheriff's FOP is among the largest FOP's in Lake County and includes all sworn divisions of the Lake County Sheriff's Office. These law enforcement professionals are responsible for providing police protection and service to the residents of Lake County.
"He has the strongest qualifications having been both a criminal prosecutor and defense attorney, as well as his civil and municipal experience," said Lake County Sheriff's Deputy John K. Van Dien who attended the endorsement session. "Mike shared many great ideas to rectify the problems law enforcement is currently experiencing with the State's Attorney's Office.
"This is a critical endorsement that Lake County voters should consider and I am honored that the Sheriff's Fraternal Order of Police recognize the difference in the experience and qualifications that I bring to this office," said Nerheim in response to the endorsement.
"As State's Attorney, you're the chief law enforcement officer for the county, and working together with the Assistant State's Attorneys and law enforcement you have the ability to impact crime in a very real way," added Nerheim. "I have tremendous respect for the law enforcement community and the first responders who put their lives on the line every day to keep our community safe, as well as Sheriff Mark Curran who leads the men and women of the Lake County Sheriff's Office."
The endorsement session held at the Veterans of Foreign War Post 4308 in Lake Villa included FOP members listening to presentations from Lake County State's Attorney candidates followed by the opportunity to ask questions. The members asked many questions and were interested in hearing details about how each candidate would address key issues.
"Mike presented himself in a very professional manner and did not stumble on any of the answers given. He has the right leadership skills, experience and vision to lead the office into the future," stated Deputy Van Dien.
As State's Attorney, Nerheim vows to work more closely with law enforcement in the investigation and prosecution of crimes, such as gang violence which is becoming more prevalent, as well as improve communication between the State's Attorney's Office and law enforcement. He will have an open door policy with law enforcement. Nerheim also brings many specific ideas for using technology to modernize the office and streamline processes, improve public safety and reduce costs.
Nerheim's promise to Lake County: ""I want the streets of Lake County to be safe for my family and yours. As State's Attorney, I will lead a team that will be fully committed to investigating and prosecuting not just certain areas of crime, but rather all types of criminal conduct—from traffic violations to felonies, guaranteeing that these crimes are prosecuted vigorously according to the law. These crimes include investigating and prosecuting official misconduct, public corruption and fraud."
Mike Nerheim has extensive prosecution experience working in all criminal divisions of the Lake County State's Attorney's Office. He has prosecuted thousands of serious felony cases and conducted hundreds of trials. As a former Assistant State's Attorney, he is well respected by federal, state and local law enforcement for his guidance and approval of federal and criminal charges and for his strong commitment to representing the needs of victims. Nerheim has extensive experience on both sides of the law—both prosecution and defense, as well as experience with complex civil litigation and municipal law, most recently as the attorney for a local Police Commission. He currently works in private practice as a criminal defense attorney and is partner in the firm Fox, Lunardi, Zeit & Nerheim in Waukegan.
To learn more about Mike Nerheim visit: http://www.mikenerheim2012.com.
Facebook: http://www.facebook.com/mikenerheim
Twitter: http://www.twitter.com/mikenerheim
Paid for by the Citizens to Elect Mike Nerheim.
A copy of our report will be filed with the State Board of Elections and is (or will be) available from the Board's website (http://www.elections.state.il.us) or for purchase from the State Board of Elections in Springfield, Illinois.
# # #