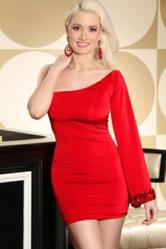 Los Angeles, California (PRWEB) February 08, 2012
Amiclubwear.com is about to make Valentine's Day more special with a line-up of online gifts that run the gamut of nice, and naughty. A sizzling hot selection of sexy dresses that range from playful pink to seductive red is available for any Valentine lady in fashion distress. Stumped about how to get that Valentine-ready ravishing look? These red dresses from Amiclubwear are certainly drool-worthy. Different looks ranging from taffeta mini dresses that say 'hot tamale', or sleek jumpers with peek-a-boo slits to channel that inner Las Vegas showgirl are guaranteed to make Valentine's Day a memorable one.
And, if seeing red this Valentine's seems a tad bit conventional, fear not, Amiclubwear has prepared an equally sexy selection of dresses in beautiful hues still fitting for this day of hearts. This well-chosen collection gives women who intend to look simply ravishing for Valentine's, different colors to choose from. They can choose to melt hearts in stunning fuchsia dresses made even more alluring by side ruching and ruffled shoulder details. Or they can play it coyly sexy by pouring their slim forms into dusty pink dresses, whose sweetness is cut by form-fitting silhouettes meant to display the feminine shape to great advantage.
Looking gorgeous for Valentine's Day is a must, but this day of love doesn't end after dinner. Amiclubwear knows this only too well. For lovers in the first blush of l'amour, or lovers rediscovering that passionate flame, Valentine's would actually just be heating up post-dinner. And there's nothing wrong with that, is there? Amiclubwear doesn't feel an ounce of guilt when recommending saucy, red intimates to ignite the night. There is even a selection that calls to mind a more than mischievous Scarlet O'Hara intent on making her Rhett Butler say he gives a damn, and then some.
What's more, Amiclubwear doesn't want to leave the men out of the loop this Valentine's Day, by making Valentine's-Day-gift-hunting, a walk in the park for clueless Lotharios everywhere. A naughty collection that will please women as well as men is just there for the clicking, and at 40 % off from February 7 to 10 site-wide, that's a Valentine steal! Amiclubwear declares "With the right gift, and perfect timing, pleasurable dividends will certainly be reaped by lovers, young and not so young, this Valentine's Day."
###