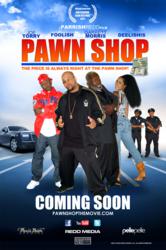 Los Angeles, CA (PRWEB) February 09, 2012
Artistic film director Parrish Redd has solidified himself in the Hollywood movie industry with his most recent film project titled Pawn Shop. The 2012 Pan African Film & Arts Festival selected Redd's newest film (slated for worldwide screening) out of thousands of submissions from industry hopefuls. Redd's film Pawn Shop (sponsored by PELLE PELLE), was selected for showing among 170 other films with over 30 countries represented.
The Pan African Film and Arts Festival is America's largest and most prestigious black film and arts festival and holds the distinction of being the largest Black History Month event in the country. This year's PAFF will run from February 9th-20th at the new all digital Rave Cinemas Baldwin Hills 15 (formerly the AMC Magic Johnson Crenshaw 15) at the Baldwin in Los Angeles.
Parrish Redd, Pawn Shop's talented director (who also produced and co-wrote the film), already has many in the movie industry enthusiastic about the upcoming festival viewing and will be on hand during the 20th anniversary PAFF celebration. Opportunities for PAFF screenings feature some of the best arising and established talents in the film industry where Redd has firmly planted his feet.
The film Pawn Shop (NR) is scheduled for its debut, worldwide screening during prime festival dates at the 20th Anniversary celebration at the Pan African Film & Arts Festival. The two premiere screenings for the acclaimed comedy film Pawn Shop will show:
*Friday, February 10, 2012 at 9:20 p.m.
*Thursday, February 16, 2012 at 1:15 p.m.
Redd will join many of LA's renowned film directors, celebrities, and other industry notables in film and entertainment will be present at the PAFF such as Bill Duke, Spike Lee, TD Jakes, to participate in the anniversary celebration and film showcase activities.
Pawn Shop is a comedy about trust, love, family and the relationship between a father and a son. This narrative feature stars Garrett Morris (Saturday Night Live, Martin, Jamie Foxx Show), actor, comedian Joe Torry, and Reality TV personality "Deelishis" and features Reynaldo Rey. Run time is 105 minutes. This film was exclusively produced by Paris Deior Studios (owned by Parrish Redd) and its official US release date will be announced at a later time.
About the Pan African Film Festival
The Pan African Film and Arts Festival (PAFF), America's largest and most prestigious Black film and arts festival, is gearing up for its 20th year of screening more than 150 films made by and/or about people of African descent from the United States, Africa, the Caribbean, South America, the South Pacific, Europe and Canada. PAFF holds the distinction of being the largest Black History Month event in the country.
PAFF was founded in 1992 by award-winning actor Danny Glover, Emmy Award-winning actress Ja'Net DuBois (most known as Willona in the TV series, "Good Times"), and executive director, Ayuko Babu, an international legal, cultural and political consultant who specializes in African Affairs. PAFF is a non-profit corporation dedicated to the promotion of ethnic and racial respect and tolerance through the exhibit of films, art and creative expression.
The goal of PAFF is to present and showcase the broad spectrum of Black creative works, particularly those that reinforce positive images, help to destroy negative stereotypes and depict an expanded vision of the Black experience.
For more information, please visit http://www.PAFF.org or call (310) 337-4737.
The Pan African Film & Arts Festival is an official event of Los Angeles Mayor Antonio R. Villaraigosa's Celebration of African American Heritage Month. PAFF is sponsored by Macy's; Wells Fargo Bank; City of Los Angeles; Los Angeles County Arts Commission; as well as Los Angeles Council members Bernard C. Parks (District 8), Jan Perry (District 9), and Herb J. Wesson Jr. (District 10); Sony Pictures Entertainment; The Brotherhood Crusade; The Los Angeles Department of Cultural Affairs, The Africa Channel; South African Airways; The Directors Guild of America; and The Water Replenishment District of Southern California.
About Parrish Redd
Parrish Redd (native of Macon, Georgia) is a film director, screenwriter, producer and music video director. He is the President and Founder of Paris Deior Studios and the CEO of Redd Media. He produced and directed short films, documentaries and music videos. With a keen eye for directing and creative production skills, Redd's talents transitioned to a broader audience and he has emerged as a determined force within the film industry. With almost 20 years of combined education and experience in feature film production, marketing, advertising and distribution, Parrish Redd is poised as one of the industry's best independent filmmakers.
About Paris Deior Studios
Paris Deior Studios is an independent movie studio (est. in West Bloomfield, Michigan). It was formed in 2007 to produce high quality feature films for various forms of distribution. PELLE PELLE is the corporate film sponsor for Pawn Shop.
# # #