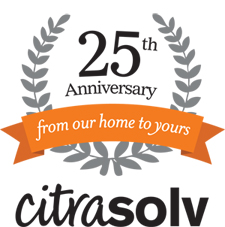 We're proud to say we set the standard 25 years ago and have never compromised quality for mass distribution -- and never will.
Ridgefield, CT (PRWEB) February 08, 2012
In 1987, Tiffany and Debbie Gibson were vying for top place at the charts, Spuds Mackenzie was a television star, Gordon Gekko intoned that "greed is good," and acid-washed jeans were flying off the shelves.
While many Americans were following trends 25 years ago, Melissa and Steve Zeitler were starting one: natural cleaning.
Citra Solv, the product that was developed by the Zeitlers to help companies replace petroleum-derived solvents, turns 25 this year, one of the first American natural cleaning companies to do so.
The company's line has expanded to include several leading products: Air Scense, Citra Dish Automatic and Citra Drain. But while the Citra Solv line has grown, the company is still proudly a family owned, independent, environmentally-responsible business.
"It's been great to witness the emergence of corporate concern for the environment, which has been a priority for Citra Solv since Day One," said Steve Zeitler, co-founder of the Connecticut based company. "We're proud to say we set the standard 25 years ago and have never compromised quality for mass distribution, and never will."
To commemorate the anniversary, Citra Solv has planned several wholesale, retail and consumer promotions. "We are incredibly grateful for our customers' loyalty over these years, and feel a personal kinship to them," said Melissa Zeitler. "Our slogan, 'from our home to yours,' absolutely rings true."
About Citra Solv, LLC
Citra Solv, LLC began when OSHA rules required cleaning manufacturers to disclose the chemical ingredients in their products. The Zeitlers took the opportunity to find a natural, plant-based cleaning product, and was tied to a cause they strongly believed in: sustainability and "green" living.
Citra-Solv LLC is currently a leader in the natural cleaning products industry. The Zeitlers manufacture and sell products that are natural, low toxicity, readily biodegradable, cruelty free and work exceptionally well. Recyclable materials are also used in their packaging.
Environmental awareness is promoted through the Citra Solv product line and the Rustle The Leaf cartoon series. Citra Solv is currently aligned with, and endorsed by, several environmental organizations.
Currently, the full line of Citra Solv products includes Citra Solv, Air Scense, Shadow Lake Castile Soap, Citra Dish, Citra Suds, Citra Spot, Citra Wood, Citra Clear Glass and Citra Drain. The company maintains an active online presence via its website, Facebook and Twitter accounts. Additionally, the product has found a new fan base with "Citra Art," works created by altering pages with Citra Solv.
For more information, visit http://www.citrasolv.com.
###