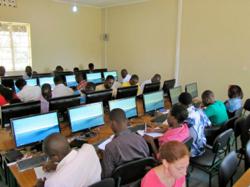 LIU aims to set a new standard for Christian higher education in Africa.
Mbale, Uganda (PRWEB) February 09, 2012
LivingStone International University opened its doors to the students and families of Uganda on Jan. 16, 2012. More than 30 students began their bachelor's degree programs in Communications and Media Technology, Business Administration and Christian Ministry. "This is the culmination of a 10-year vision including more than six years of focused planning and work," said Phillip Shero, Interim Vice Chancellor.
Every student has been equipped with a Kindle, along with access to 30 brand new computers and a library with more than 15,000 electronically-catalogued books. "LIU aims to set a new standard for Christian higher education in Africa," said Shero.
The roots of LIU began with a very effective mission team, some of whom have been in Africa for 30 years. During this time, the team has been involved in planting more than 500 churches in Uganda, Kenya and South Sudan. A successful Bible training work established by the group of missionaries inspired the vision of a Christian university that directs ethical students towards the forefront of change and influence.
According to Ugandan government statistics, up to 35,000 high school graduates per year can't attend a university, because space isn't available.
"Fundamentally, we want to make an eternal difference in the life of each student while equipping them to be leaders in all areas of African society," said Shawn Tyler, University Chancellor. "Through spiritual mentoring and real-world internships, we plan to guide the personal development of each student."
LIU begins on a campus in the town of Mbale, with plans to build a permanent campus on 56 acres of land already owned by the university. The master-planned permanent campus was designed by Engineering Ministries International and includes pristine, modern buildings to accommodate 4,000 full-time students.
"This is an exciting step for the future of higher education in Africa," said Craig Smith, Executive Director of LivingStone University Partners, the Fort Worth-based organization that resources LIU.
LivingStone University Partners
6300 NE Loop 820
Fort Worth, TX 76180
###