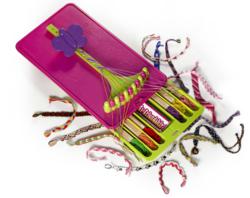 "Together we can knock out bullying one friend at a time!"
Clinton Township, Michigan (PRWEB) February 08, 2012
That old adage, a friend in need is a friend indeed, is as relevant to innocent kids as it is to wise adults. In this crazy world of bullying and hurtful words, youngsters need a support network of best friends. A visual reminder of that bond is the friendship bracelet -- a tween emblem of acceptance and self-esteem. The award-winning My Friendship Bracelet Maker® by Choose Friendship Company (formerly known as Crorey Creations) has been flying off the shelves from national outlets to QVC TV segments.
Beyond creating products that bind friendships, the company has now decided to bring focus on the issue of choosing friendship and rejecting bullying for school kids. What better way to transport that message than through an original song, and accompanying video, both created with real kids? In late January 2012 over 100 tweens and teens gathered at Dakota High School in Macomb Township, Michigan, for a notable cause. They were all participants in the music video production for the brand new song " Inside Out" performed by 14-year-old Marisa Nahas, a local musical phenom. Nahas is an up-and-coming star in the music industry. An eighth grader at L'Anse Creuse Middle School North, Marisa sang and co-wrote the song "Waking Fate" from the award-winning local short film, Amendment (http://youtu.be/7dnMXVd8NtA). In addition, she won first place in the pop division during the American Guild of Music Great Lakes Regional Contest.
Mad Habit Media collaborated with The Choose Friendship Company to launch their anti-bully, pro-friendship campaign debuting at the NYC Toy Fair this month. Make the trip to friendship at the company's American International Toy Fair Booth 6269.
The song's powerful message is to be true to yourself, stand up for others and choose friendship. Along with the compelling song lyrics, the music video follows a "pay it forward" storyline emphasizing friendship. The video includes a high-energy, flash-mob style dance number, performed by more than 100 kids, ages 10-17 from counties in Southeast Michigan. The background "stage dance" includes competitive dancers from local dance studios in Metro Detroit. All of the dance numbers were choreographed by 18 year-old Maycee Nicholas of Clinton Twp., Michigan, where the company is based.
The video incorporates a PSA with the message that "together kids can knock out bullying one friend at a time!" Proceeds from the song's sales will be donated to non-profit organizations that support this cause. Support the fight against bullying by downloading the song and sharing the video with your friends and family. The song can be purchased from Amazon, Rhapsody and iTunes for 99 cents and the video can be viewed for free at http://www.choosefriendshipinsideout.com. Viewers are encouraged to share via Facebook with the provided link on the site to help this share this worthwhile cause.
The family-owned company began in 2009 and the owners quickly realized from social media, website emails, personal stories at its first mall kiosk and at trade shows that kids liked to make bracelets for a cause or special reason close to their hearts. The company started campaigns asking to make special "color" bracelets in any patterns. After great success with the "Red, White and Blue, Kids Serve Too!" campaign where kids sent in red, white and blue friendship bracelets to children of military families, the popular "Pink and White, Kids Join the Fight!" campaign was a way to support kids in families dealing with breast cancer. "Embracing You With a Circle of Blue" reaches out to young people living with Type 1 diabetes.
While supporting these goodwill campaigns, it became apparent that "Choosing Friendship" was a positive message the company could share with its consumers that went hand in hand with making friendship bracelets for your friends. Why not make a bracelet for a friend, boldly stating you "Choose Friendship" and will stand up for those who are bullied? Locally in Michigan and across the world there are so many stories in the media of kids that were harmed both physically and emotionally because of bullies, and the company knew they wanted to help with this issue.
Once the project began, the company began hearing many stories of bullying from friends in their community. At the beginning of video is Alexis Stillwell telling her personal story of bullying. She is a 14 year-old from Macomb Township. The other "bullying" stories were scripted and read by local actors from Macomb County. The main characters from the video are from "All the World's a Stage" based in Romeo, Michigan. Macomb County Executive Mark Hackel attended shoot to commend kids on participating in such a worthy and important cause.
On the product front, in 2012, the company shows off its new name with two new craft kits, The My Friendship Bracelet Maker Traveler™ and The Image Bracelet Maker™.
Choose Friendship is not only the craft kit company's new name but also its mantra. The family business -- started by a retired Detroit automotive executive learning to braid a bracelet with his young granddaughters – has gone global in two short years, bringing innovation to simple crafting techniques. The joy of the product line is its ability to engage impressionable kids of the importance of friends and self-expression – no matter how cool or kooky.
In addition to the typical school day and afterschool obligations, children sometimes have to cope with more than their science homework. A hand-made bracelet can actually make a difference in the life of an anxious child.
"Because children carry burdens often overlooked or misunderstood by others," explained Choose Friendship Co.'s Julie Crorey, mom of the two daughters who inspired the product line, "we want them to feel welcomed into their own exclusive club. We've created charitable causes that touch a child in every community. Our mission is to let them know they're not alone; not only are others living with the same fear and uncertainty, but that these special children are loved and supported by a larger community."
Retailers have taken notice of this incredible company where DIY accessories nurture the soul. QVC sold out its entire load of more than 55,000 kits during the 4th quarter, 2011. National and specialty retailers alike had to restock their shelves in-store and online to the delight of young girls. And this year the company will reach retailers worldwide who will share the success of the Choose Friendship Company's popular line of award-winning products.
Every major toy industry award program agreed with retailers that a focus on friendship was a smart idea! My Friendship Bracelet Maker® and My Ribbon Barrette Maker® have earned kudos from Tillywig Toy Awards, Parents' Choice, Dr. Toy, Creative Child Magazine, NAPPA Awards and Brilliant Sky. New for 2012 are two products that allow kids to express themselves with a twist of the wrist:
My Friendship Bracelet Maker Traveler™ • Ages 6+ • $16.99
My Friendship Bracelet Maker® goes global with the Traveler™! Great for backpacks and carry-ons, this fun and friendly go-anywhere travel buddy puts an international twist on the message of friendship. Crafters will appreciate the globe clip that keeps bracelet in place during knotting. Clever numbered slots keep colored threads organized. The nifty slide-out storage drawer features 20 pre-cut Prism® embroidery threads in 10 different colors. Like all products, the included instructions – from how to thread the loom to basic knots -- are easy to understand. For more visual ideas, users can log on to the company website for great how-to videos and lessons.
My Image Bracelet Maker™ • Ages 6+ • $34.99
Like a scrapbook or Facebook post, kids can express instantly their favorite things and likes of the moment on their wrist! Use photos, magazine pictures, internet images or the included art starter sheets to assemble bracelets that are totally unique, totally awesome… totally you! Image Bracelets tell a story, serve as inspiration, and let you keep close at hand your amazing adventures and special someones. Easy to use computer software allows kids to upload and crop favorite photos, then simply print from a home printer. Enclosed cutting mechanism safely trims images precisely to size so fingers never come into contact with a blade. Reversible Image Beads come in 6 different colors. Child-safe glue stick affixes images to beads. Elastic string for threading allows for easy on-and-off. So charm your arm or send to a friend!
For a complete description of craft kits, instructional videos, charitable causes, store locations and more, log on to their website http://www.MYFBM.com. Follow them on Facebook, Twitter or their blog, authored by the inventor's granddaughter.
About Choose Friendship Company
Originally known as Crorey Creations, the Choose Friendship Company manufactures the innovative craft kit called My Friendship Bracelet Maker®, (MyFBM), and several other products in the Maker collection. Invented for his granddaughters by David Crorey, a retired auto industry executive with an engineering background, My Friendship Bracelet Maker offers an easy, organized and portable way to create friendship bracelets, a favorite craft tradition of girls and teens, and in-be-"tweens."
Because friendship bracelets have long been an international symbol of friendship, the company has established quarterly Choose Friendship campaigns encouraging support networks between kids across the country. After great success with the "Red, White and Blue, Kids Serve Too!" campaign where kids sent in red, white and blue friendship bracelets to children of military families, the popular "Pink and White, Kids Join the Fight!" campaign was a way to support kids in families dealing with breast cancer. "Embracing You With a Circle of Blue" reaches out to young people living with Type 1 diabetes. In 2012, an anti-bullying song & video titled "Inside Out," sung by teen Marisa Nahas, will be released promoting the blessings of friends and the importance of choosing friendship over bullying. Watch their website for details of the first- ever celebratory Friendship Ball. For more information on products, causes and community, visit their consumer website at http://www.MYFBM.com. Their full press kit is available at http://www.choosefriendship.co.
###