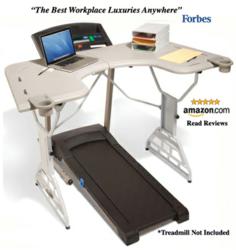 I decided to do something about this sedentary and unhealthy aspect of my lifestyle because I'm very concerned that I'm sacrificing some of the health benefits of my exercise.
Worcester, MA (PRWEB) February 07, 2012
Dr. Sherry Pagoto is licensed clinical psychologist and associate professor of medicine at the University of Massachusetts Medical School specializing in health, nutrition, fitness, weight management, depression, stress, cancer prevention and type 2 diabetes. Dr Pagoto also exercises on a regular basis to maintain her health. Despite her prestigious resume and commitment to health Dr. Pagoto is quick to admit her surprise at recent studies showing the health risks of sitting all day at the office. Her solution to the problem? A TrekDesk treadmill desk.
Dr. Pagoto explained her revised approach to fitness with the TrekDesk Treadmill Desk online on her website at http://www.fudiet.com:
"I take great pride in the fact that I exercise regularly, but my pride got knocked down a few notches when recent research showed that prolonged sitting time, even among very physically active people (>7 hours of moderate exercise a week), is associated with increased risk for all cause mortality (Matthews et al 2012). Ugh. I sit a lot. I work at the computer all day, writing grant after grant and paper after paper, email after email. I blog, I surf the net, I read. You name it. All in front of my computer! I'm embarrassed to even report the number of hours a day I sit (add 4 to whatever number you were thinking). For some reason I figured if my sitting time was productive then how could it be a health risk? That is silly thinking on my part because it is the act of sitting itself that is harmful and it doesn't matter if it is in front of Seinfeld reruns or important business, either way, it is an unhealthy habit."
"I decided to do something about this sedentary and unhealthy aspect of my lifestyle because I'm very concerned that I'm sacrificing some of the health benefits of my exercise. Enter the TrekDesk. The TrekDesk is a desk that can be set up to any treadmill, allowing you to use a computer and engage in any desk work while walking on the treadmill. Unlike other treadmill desks, the treadmill is not attached to the desk, the TrekDesk is simply a desk in which the shape and height is designed to be used with a treadmill. I really liked this concept better than the treadmills with built-in desks because I have had a treadmill at home for a long time and do not have a need (or space) for a second treadmill. I have been using the TrekDesk for a few weeks and wanted to share my reflections on the experience."
"Dr. Pagoto dedicates her life to changing the health landscape in America," stated Steve Bordley, CEO of TrekDesk Treadmill Desks. "She is one of a rapidly growing number of medical professionals now urging individuals to change their sedentary lifestyles and stay in motion as much as possible during the day."
Read Dr. Pagoto's entire posting about the TrekDesk Treadmill Desk and other healthy living tips at: http://www.fudiet.com/2012/01/trek-desk-review-a-great-way-to-reduce-sitting-time/
Designed to fit any existing treadmill, TrekDesk treadmill desk is an affordable, full sized, height adjustable workstation that allows individuals the opportunity to gain the necessary amount of exercise daily to maintain health, prevent disease, strengthen muscles, boost mood and productivity, without requiring additional time during the day or extra motivation. Workout at work with TrekDesk. No sweat!
TrekDesk is currently available for sale online at Amazon.com for $479.00 including free shipping.
Join the TrekDesk "Movement Revolution" to learn more, win a free TrekDesk or ask us any questions anytime at http://www.facebook.com/trekdesk, or follow us on twitter -http://www.twitter.com/trekdesk.
###