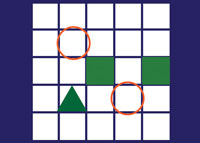 Baltimore, MD (PRWEB) February 09, 2012
UMBC's ISD Now Forum will be held on Tuesday, March 6, 2012, from 6 p.m. to 8:30 p.m. in the UMBC Ballroom. Guest speakers, Steve Sugar and Dr. Linda Raudenbush, will discuss Low-Tech Games That Teach.
In this highly interactive session you will play simple games that produce powerful learning. Then you will participate in adapting each game for your very next class with minimum resources and rework. Finally, you will receive a handy take-home manual containing game templates with guidelines on how to set up and conduct each game.
Join us to:

Experience the play and debrief of learning games.
Assess each game using the Good Game Taxonomy.
Participate in developing uses for each game played.
This event is free and open to the public. The Ballroom is located on campus in the University Center Building, third floor. UMBC campus is located off Interstate 195 in Catonsville at 1000 Hilltop Circle. If interested in attending, please RSVP online at http://www.umbc.edu/isd/forum.
# # #