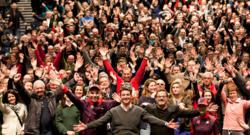 These orientation events are the start of our extensive training programme which will deliver over 1 million training hours for up to 70,000 people from around the country
(PRWEB) February 07, 2012
The first orientation training event for 10,000 London 2012 Games Maker volunteers and Games time employees took place at Wembley Arena in London. The event was the first of six national orientation events on 4th, 5th and 18th February which will form the biggest London 2012 events outside of the Games this year.

Around 10,000 people attend first of six orientation training events for Games Makers and employees at Wembley Arena
Orientation sessions to take place in London in February and across the UK in March
Images from the event available to download here
The events are the first stage in the training programme for London 2012 employees and up to 70,000 'Games Makers', the volunteers who will to help make the Games a success. Around 70% of the trainees at each session will be volunteers.
The Orientation Training events provide an introduction to the heritage and importance of the Games as well as an insight into what working at London 2012 will be like, including the sports, venues and the roles. Games Makers will leave the session prepared for the next steps on the journey to Games time. The sessions include welcome talks from hosts, presentations and mocked up scenarios which will introduce all Games time workers to the realities of putting on an event the size of the Olympic and Paralympic Games.
Six smaller regional orientation sessions will be held in March for Games Makers who have been offered roles at venues outside of London in Weymouth and Portland, Cardiff, Coventry, Newcastle, Manchester and Glasgow. Invites for these have started to be sent out.
By the time the Games Makers reach Games Time, collectively they will have undertaken 1.2 million hours of training. Around 8 million volunteer hours across the summer of 2012 will be used.
Games Makers will also receive role-specific training from February onwards where they will learn all they need to know to carry out their role successfully and also have the opportunity to try out the duties they'll be doing at Games time. They will then receive venue-specific training in June which will familiarise volunteers with their venue. Team leaders will also receive event leadership training.
Sebastian Coe, Chair of LOCOG, said: "Today marks a significant milestone in our preparation for the Games. These orientation events are the start of our extensive training programme which will deliver over 1 million training hours for up to 70,000 people from around the country. Our Games Makers will contribute a total of around 8 million volunteer hours during the Games and simply wouldn't happen without them. I hope that the orientation training they receive has made them even more excited about being part of the London 2012 team this summer."
The orientation events are the first time Games Makers will be together following the selection events and the first time they will have the opportunity to meet the wider work force. The sessions will be attended by London 2012 volunteers, paid LOCOG staff and contractors.
2,000 young people will be taking up volunteer roles during the London 2012 Games, as part of the Young Games Maker programme. Approximately 250 teams of young people will join the adult Games Makers this summer to help stage the London 2012 Olympic and Paralympic Games. Their training will take a similar format over the coming months.
Worldwide Olympic Partner McDonald's is the Presenting Partner of the Games Maker volunteer programme. McDonald's has used its nationwide presence to help attract candidates for the diverse team that will be needed to make the London 2012 Games a success. The LOCOG Volunteer team held training sessions for many of the volunteers conducting interviews at the world-class training facilities at McDonald's head office in East Finchley, London and the restaurant chain will also be helping to facilitate the training of the volunteers in the run up to Games time.
Jez Langhorn, Vice President, People, McDonald's UK, said: "With the first orientation event getting underway it feels like the Games are nearly here. We've been hard at work to help plan and design the training materials that will prepare the volunteers for the challenge ahead, drawing on our experience in delivering great customer service and award-winning training programmes on a large scale.
"As the Games Makers prepare for their role this summer, McDonald's will to be on hand to support them every step of the way. It's an exciting time to be part of the hospitality sector as we prepare to put the country on show to millions of visitors this summer and I'm proud of the role we will have played in making sure our volunteers are ready."
Almost a quarter of a million people applied to the Games Maker programme in 2010 and a team of specially trained volunteer interviewers has been carrying out selection interviews since February 2011. Up to 100,000 interviews will have been conducted over the course of the programme and of these; 76,000 interviews have taken place to date in nine selection centres around the UK. Interviews will continue in London's selection centre at ExCeL through to the end of March 2012.
So far 55,000 offers have been made for roles at both the Olympic and Paralympic Games. Offers are continuing to be made, with the final role expected to be filled at the end of April.
Cadbury is an Official Supporter of the London 2012 Games Maker programme and will help LOCOG build great Games Maker teams through fun and friendly game play delivered by programmes such as the Spots v Stripes campaign.
For further information please contact the London 2012 Press Office
Amongst the people attending the orientation training are:
Elizabeth (Betty) Ragget, 74, Hove, Brighton, Retired
Elizabeth is a retired news-agent and now works part-time stewarding in a theatre. During Games Time she has been assigned a role based at the International Federation Office at the Excel Centre, where she will be involved in Boccia. Elizabeth belongs to a service club and does a lot of fundraising. She has two daughters, one of which is the Boccia competition manager at the Paralympic games. Her daughter formally taught sport to disabled children which is one of the reasons Elizabeth decided to apply to be a volunteer. Elizabeth says: 'I can't wait for games-time; it's a fantastic opportunity to show the rest of the world what Britain can do. I've applied so I can do something worthwhile and be part of it all'. Elizabeth's granddaughter has also applied to be a volunteer which means three generations within her family will be working and volunteering at London 2012.
Beryl Stratton, 73, Chingford, retired
Beryl is a mother of three and a grandmother of four and has dedicated 50 years of her life to volunteering. During Games Time, she will be volunteering as an athletics services team member in the Olympic Stadium. Her husband, 75, and son will also be volunteering, as a Games Maker and London Ambassador respectively. The Strattons, married for 48 years, have been volunteering together at athletics meets and have also been to the Atlanta and Sydney Olympics together. Beryl's husband is the reason she first became interested in athletics 40 years ago and she was inspired to become a Games Maker when she saw an 80 year old female volunteer at the Sydney Games. Beryl is honoured to be involved in the volunteering and delighted to be able to share this opportunity with her husband.
Joe Mason, 18, Sawtry, Cambrideshire , Student
Joe is currently in his first year at Leeds University studying broadcast journalism. During Games Time he has been assigned a role for badminton within the sports equipment team at Wembley arena and Redbridge badminton training centre. He is a keen player and first volunteered at his local badminton club for his Duke of Edinburgh bronze award when he was 14. He has since found a taste for volunteering and for the last two years has been a volunteer at national badminton indoor events and undertaken his badminton umpiring course. Joe is overwhelmed that he has the chance to be part of the Olympic Games and is enthusiastic to see his badminton volunteering progress.
Sarah Gifford, 26, East Dulwich, London, Volunteer Manager at Queen Mary University
Sarah is a volunteer's manager at Queen Mary University in London and a few people in her team have also applied to be volunteers at London 2012. During Games Time Sarah will be volunteering at the cycling and athletics events along with a few of her colleagues who have also been selected. Sarah is really happy with her role as she has volunteered previously at a few of the London Marathons. As soon as Sarah heard volunteers were being recruited for the games she knew straight away she wanted to be a part of it with her background in the volunteering sector as well as being part of such a spectacular event.
Phil Cobb, 59, Loughborough, Contracts Manager for Charnwood Council
Phil has been assigned a role for the volleyball events. He's ecstatic at being offered a role related to his favourite sport. Phil has been playing volleyball since his student days at Loughborough university and continued to play in the lower national leagues. Phil now coaches and referees volleyball games around the country and plays when he can. He has two children. His daughter's boyfriend has also applied to be a volunteer.
Cassim Patel, 30, Preston, Portfolio Manager
Cassim works in banking as a portfolio manager. He grew up in Preston and ever since Great Britain won the bid for the Games in 2005 he has wanted to be involved. He has volunteer experience with local charities, supporting disabled people and Macmillan cancer patients. Helping comes naturally to Cassim as he cared for his disabled father from the age of 14. Cassim has been allocated a role as a EVS Mobility Team Member, OPK Common Domain.
Kevin O'Malley, 50, Halifax, West Yorks, Resource Manager
Kevin, a father of two, will be volunteering at Earl's Court for Volleyball, in the sports equipment team during the Games. Volleyball has been a passion for Kevin since he first played at school aged 14 and he set up his own first league team soon after leaving school at 16. Kevin has played in local and all four divisions of the volleyball National League, during which time he was also qualified as a coach and referee. He now concentrates on coaching the Yorkshire U15 boys and the North England U18 boys and is one of the founding members and chair of a National League club in Division 1. Kevin's enthusiasm for the sport has rubbed off on his son Kieran O'Malley (23) who is pro volleyball player in Holland and a GB Volleyball squad member with 73 caps for England. Kevin never thought he would have the opportunity to experience an Olympics and can't wait to actually be a part of the Games.
Sarah Pocklington, 44, nr Cambridge, Cambridgeshire, British Red Cross
Sarah will be a team leader working at London Heathrow meeting and greeting dignitaries, athletes and VIPs during the Games. Sarah's passion for sport originally spurred from playing Ultimate Frisbee but she found a love of volunteering in the sport rather than playing, finding that she enjoyed helping and supporting the team. Sarah has been involved in the Olympics volunteering process right from the beginning as she trained Selection Event Volunteers at Weymouth and Coventry centres and was a Selection Event Volunteer at London Excel. Sarah's brother-in-law, who inspired her to sign up, is also volunteering at the Games.
Ellie (Eleanor) Cox, 25, Wimbledon, London, works in the Finance sector in London
Ellie is very excited about games. She was an athlete at European level playing Badminton between the ages of 11-20. She knows many of the Badminton players after playing for England and regularly visits the national badminton centre. She's a big fan of London and loves the huge energetic feel to large scale community events. She believes the games will re-generate and improve the local areas. She thinks an emotional uplift is what the city needs and believes the games will be a much needed boost for 2012. Ellie is a big fan of sport, she cycles to work, runs a lot and plays squash. She lives alone and is a true Londoner, born and bred in Wimbledon. Ellie would rather not talk about her work although she does work in finance in the City of London and enjoys a lovely social life.
Cathal Cunning, 47, Portstewart, Northern Ireland, Chef
Cathal, born and bred in Portstewart, will be volunteering as a member of the transport team in the Olympics Village during the Games. He first got involved in volunteering at 19 when he started marshalling at the Coleraine District Motor Club and has been Chief Marshal there for the last seven years. The North West 200, Ireland's largest outdoor sporting event, runs through Cathal's hometown and it is for this reason his whole family have been involved in motorsports volunteering. Cathal has found that volunteering brings family and friends together and he is eager to get involved with the once in a lifetime opportunity of volunteering at the Games.
Gordon Neale OBE, 67, Newcastle (Whitley Bay), retired
Gordon has worked in Disability sport his whole life. He coached Great Britain's first ever Sitting Volleyball team in the 1980s and 1990s and currently holds a number of voluntary positions within Disability Volleyball including, GB Women's Sitting Volleyball Team Manager and Director for sitting volleyball for Volleyball England. Gordon received his OBE in 2002 for contribution to disability sport and it is due to Gordon's extensive background that he will be Sitting Volleyball liaison with the international Volleyball federation at the Excel centre during the Games. Gordon is honoured to be part of the team of staff preparing and supporting Great Britain's first ever Sitting Women's team for London 2012.
He was working at Eastway leisure centre, now on the site of Olympics, after being in the army for 26 years and started coaching volleyball. It was when he liaised with disability organisation Les Autres that he started to build up sitting volleyball as a sport.
Carol Gordon, 50, Lecturer, Whitton, South West London
Carol is a Sports Lecturer at Richmond Upon Thames College and has will take up the role of Athlete Services Team Leader during Games Time, where she will liaise with the athletes as they arrive at the arena and ensure team liaisons are in touch with their teams. Carol has been teaching her students about the Olympics for over 25 years, she believes sport connects people from all around the world and that it overrides all the discriminations including race, age and gender. She has been the international head coach of the England cadet boys volleyball team since 1996. She believes that England was the founder of competitive sports in the 1880s and having the Games in London in 2012 will mean we all have to put our best foot forward and make England proud. Her colleagues at the national league club have volunteered too and many have been appointed official jobs relating to volleyball. Carol is a very passionate advocate of sport and is thrilled to be part of the games.
(Please note that these people are not available for interviews over the weekend).
Games Maker timeline
February 2012: orientation training begins
February 2012: role-specific training begins
March 2012: event leadership training begins
April 2012: distribution of uniforms and accreditation passes begin
April 2012: venue training begins.
McDonald's is the Presenting Partner of the volunteering programme, providing its expertise and experience to help attract, select and train the London 2012 volunteers. The organisation currently employees 87,500 people across the UK and each year invests over £36million in training this workforce. McDonald's has awarded almost 35,000 nationally-recognised qualifications to employees and is one of the UK's largest apprenticeship providers. In 2005 McDonald's became the first large employer to achieve the Investor in People Profile status and in 2009 achieved GOLD status.
Cadbury's association with the 2012 Olympic and Paralympic Games as Official Treat Provider to the 2012 Games will be the biggest programme ever undertaken in Cadbury's history – underpinning commercial, marketing, merchandising and employee engagement up to London 2012 and beyond.
To celebrate its support of London 2012, Cadbury has launched Spots v Stripes, an ambitious and exciting campaign that aims to get people of all ages and walks of life to play games again.
Atos Origin - The Games Maker volunteer portal has been designed and built by Atos Origin - Worldwide IT Partner for the Olympic Games through to 2016. In the run up to the London 2012 Games, the portal developed by Atos Origin will enable London 2012 to recruit up to 70,000 volunteers. The portal will be the main channel of communication between the Games Maker volunteers and the London 2012 Organising Committee.
McCann - The Games Maker idea was created by McCann Worldgroup, the official Marketing Services Provider for the London 2012 Olympic and Paralympic Games. They are also responsible for developing and executing the fully integrated advertising campaign to attract applicants in 2010.
London 2012 Games partners:
The Worldwide Olympic Partners who support the London 2012 Olympic Games and the National Olympic Committees around the world are Coca-Cola, Acer, Atos, Dow, GE, McDonald's, Omega, Panasonic, Procter and Gamble, Samsung and Visa.
LOCOG has seven domestic Tier One Partners - adidas, BMW, BP, British Airways, BT, EDF and Lloyds TSB. There are seven domestic Tier Two Supporters – Adecco, ArcelorMittal, Cadbury, Cisco, Deloitte, Thomas Cook and UPS. There are now twenty-eight domestic Tier Three Suppliers and Providers – Aggreko, Airwave, Atkins, Boston Consulting Group, CBS Outdoor, Crystal CG, Eurostar, Freshfields Bruckhaus Deringer LLP, G4S, GSK, Gymnova, Heathrow Airport, Heineken UK, Holiday Inn, John Lewis, McCann Worldgroup, Mondo, NATURE VALLEY, Next, Nielsen, Populous, Rapiscan Systems, Rio Tinto, Technogym, Thames Water, Ticketmaster, Trebor and Westfield.
There is one domestic Tier One Paralympic Games-only Partner, Sainsbury's and two domestic Tier Three Paralympic Games-only Suppliers, Otto Bock and Panasonic. The London 2012 Paralympic Games also acknowledges the support of the National Lottery.
###