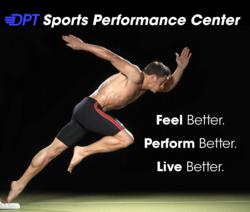 If you are an athlete, you need to be here.
Calsbad, CA (PRWEB) February 09, 2012
The end-to-end solution for San Diego's top athletes has arrived. Gaspar Doctors of Physical Therapy, North San Diego County's premier physical therapy provider will open its doors on February 13, 2012 to their new DPT Sports Performance Center in Carlsbad, California. The facility will feature a physical therapy clinic, a sports performance center powered by Velocity 2.0, and a 'state of the art' biomechanics lab powered by Movement Performance San Diego-- an affiliate of the internationally acclaimed Dr. Chris Powers' Movement Performance Institute in Los Angeles. The diversified staff including Doctors of Physical Therapy, Certified Athletic Trainers, Certified Strength and Conditioning Specialists, and biomechanics specialists delivers extreme value and expertise for athletes and active adults intending to maximize their health and performance.
Comprehensive evaluation including advanced diagnosis of movement in a state of the art gait and biomechanics lab, running analysis, return to play assessment, injury prevention, and individual/group sports performance programs are a few of the specialty services offered at the DPT Sports Performance Center. According to Clinic Director Dr. Robert Snow, DPT, OCS, ATC, CSCS, "If you are an athlete, you need to be here."
DPT Sports Performance Center is located at 6102 Avenida Encinas Suite E, Carlsbad, CA 92011 in the Encinas Business Park, adjacent to the YMCA Gymnastics Center. For more information, directions, or to schedule a consultation, call 760-634-9750.
###