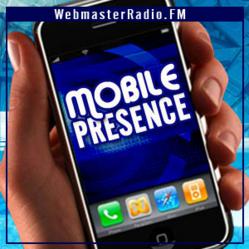 "We are thrilled to be a part of and discuss mobile technologies, our extensive experience, and our patented mobile solutions with the WebmasterRadio.FM listeners."
Fort Lauderdale, Florida (PRWEB) February 08, 2012
Mobile Presence, the weekly mobile marketing radio series that examines all things mobile from devices to software, services and SEO, returns with new episodes on WebmasterRadio.FM.
"When Mobile Presence first debuted in February 2009, the mobile marketing industry was a billion dollar business and now on pace to reach a $100 billion by 2015, not to mention a smartphone customer base that bought over 400 million phones in 2011 those facts reflect an unquestionable need for WebmasterRadio.FM to bring back "Mobile Presence" said WebmasterRadio.FM's Director of Programming and Production Jorge Hermida.
"This radio show will provide listeners with a new way to connect and learn about new advances in mobile application development and marketing. Listeners can choose from a variety of online live and stored sessions," said Thomas Castleberry, Chief Operating Officer at SkyWire Media, Inc. "We are thrilled to be a part of and discuss mobile technologies, our extensive experience, and our patented mobile solutions with the WebmasterRadio.FM listeners."
The premiere episode will feature new hosts Nicole Hurley and Joe Walczak offering helpful tips for Deploying a Successful Mobile Marketing Strategy.
"Internet Marketers should recognize that with the rapid expansion of mobile phones and smart devices, their messages can and will be heard faster with quicker responses from their customers when utilizing mobile technologies, "said Hurley. "This means their messages will need to be clearer and more concise with value propositions the consumers can act on immediately."
"Mobile Presence" airs every Wednesday at Noon Eastern / 9am Pacific on http://www.WebmasterRadio.FM. Episodes are archived on WebmasterRadio.FM, as well as on iTunes and other premier podcast portals.
Listeners are able to interact with their questions and comments to the host and guests for each interview, as well as all live WebmasterRadio.FM programming, by:

About WebmasterRadio.FM
WebmasterRadio.FM lifts the "veiled curtain" of the Internet, bringing the business community together through an interactive radio network. Its listeners are a global group, comprised of everyone from corporate executives and decision makers to small and mid-sized businesses and individual entrepreneurs. WebmasterRadio.FM's stellar line-up of radio programming includes; "Market Edge" with Digital Influence Group Chairman Glenn Engler , "Purse Strings" with Carmichael Lynch Spong senior principal Maria Reitan and the "CyberLaw and Business Report with Internet Law Center Founder Bennet Kelley. To tune into WebmasterRadio.FM's live content or check out the show lineup, please visit http://www.WebmasterRadio.FM.
Media Contact:
Brandy Shapiro-Babin
954-309-5578
About SkyWire® Media
SkyWire Media, Inc. develops integrated, mobile-centric applications that allow hospitality service providers to reach their customers via real-time SMS text messaging. SkyWire Media's Mobile Connect™ Product Suite is designed to reduce marketing costs, generate revenue and enhance guest service. Mobile Connects™ modular solutions include: Mobile Connect™, http://www.TableReserve.com™, http://www.MobiMantis.com™, http://www.CountMeInllc.com™, http://www.PokerTableIQ.com™ and http://www.SkyWireQR.com™. In addition, SkyWire Media also develops Mobile Applications and provides Workforce Dynamics™, an integrated labor management solution designed for hospitality. For more information, text 'SKYWIRE' to 56242, visit them on the web at http://www.skywiremedia.com or contact a sales representative at (866)-514-5888.
###