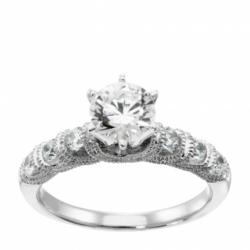 The rating of A+ is given to less than 5% of companies, and this exclusive rating is something that everyone at Diamond Nexus works tirelessly to achieve
(PRWEB) February 07, 2012
This rating has been determined through the company's commitment to make good faith efforts to resolve customer complaints and by Diamond Nexus' resolution of those complaints. The Better Business Bureau gives this rating based on their code of business practices. These include sound advertising, customer service practices, and selling that enhance customer confidence and trust in business.
"The rating of A+ is given to less than 5% of companies, and this exclusive rating is something that everyone at Diamond Nexus works tirelessly to achieve, through excellent customer service and diligent efforts from all of the Diamond Nexus team," noted Christopher Jacobs, Customer Experience Manager.
Businesses based in the United States and Canada that meet these standards will be accredited by the Better Business Bureau. Diamond Nexus has been accredited since 2005. With the A+ rating, Diamond Nexus has shown that they have agreed to meet and abide by the standards set in place by the BBB.
"Diamond Nexus reviews, such as this from the Better Business Bureau, are a testament to our commitment to excellence, and the steps we are willing to take in order to insure that each and every one of our customers is satisfied," commented Gary LaCourt, CEO. "I am extremely proud of all of the hard work that Chris and everyone on the team have done, to assist with customers and earn us such a prestigious rating."
Diamond Nexus was founded in 2004 with the purpose of bringing to the public the powerful benefits of the diamond simulant revolution. They have over 200,000 customers worldwide that have awarded them an "A+" rating with the BBB, and are rated a top ten online jewelry store according to the IR500 list. For two years in a row brides from The Knot have selected them as their Best of Jeweler. Diamond Nexus currently has two retail locations: their flagship store at Woodfield Mall in suburban Chicago, Illinois, and a second store at Mayfair Mall in Milwaukee, Wisconsin. In 2009 the company was named the official jeweler and crown maker of the Miss Universe Organization as part of NBC/Universal's "Green is Universal" environmental initiative.
###