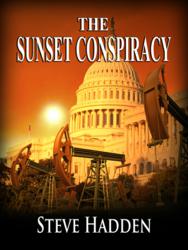 The Sunset Conspiracy is a thriller with a fascinating premise but it's also an action-packed story of friendship, betrayal, greed and triumph
Dallas, TX (PRWEB) February 21, 2012
What happens when an insider to the oil industry authors a thriller about the future of energy? The Sunset Conspiracy, the tightly woven story by Steve Hadden, former head of exploration and production for Devon Energy and a former Vice President of Texaco.
This oil executive turned author delivers a credible and thought-provoking story about an unlikely pair of resilient heroes – Nathan Robbins and Jessica Adams – who battle Big Oil and a corrupt U.S. Senator in order to bring a new energy source to light that can change the world overnight—if they can stay alive long enough to tell their story.
Hadden, who traveled the globe as a leading oil executive, says, "I've always been intrigued by the power and wealth oil wields on the world stage. I wanted to explore what would happen if a few unscrupulous gatekeepers of the world's oil reserves were faced with a breakthrough in science that could immediately end oil's 100 year reign." He continues, "The Sunset Conspiracy is a thriller with a fascinating premise but it's also an action-packed story of friendship, betrayal, greed and triumph."
The Sunset Conspiracy, published by Telemachus Press, has already been picked up by Amazon, Kindle, Barnes and Noble, Nook, Apple's iBooks, Smashwords, Diesel and Kobo. A synopsis and a preview are available at SteveHadden.com. Early reviews call Hadden's book "gripping," "well written," and "downright frightening."
Hadden already has two more thrillers – Genetic Imperfections and Swimming Monkeys – schedule to come to print later in 2012.
"My goal is to deliver a fun, entertaining read with a thought provoking premise and a page-turning plot," said Hadden.
About Steve Hadden
Steve was born in Ohio and has lived across the U.S. including stops in Maryland, Indiana, Pennsylvania, Oklahoma, Wyoming, California, Texas, Connecticut and Colorado. After receiving a degree in chemical engineering, Steve worked in the energy industry as an engineer and eventually as a senior executive for two of the largest companies in the country. He's traveled around the world and uses his experience and curiosity about the larger issues we face to bring his thrillers to life. Steve lives in Texas with his wife, CJ, and two Labrador retrievers, Emma and Abby. The Sunset Conspiracy is his debut novel. Look for his upcoming novels, Genetic Imperfections and Swimming Monkeys, in the Spring and Summer of 2012.
###