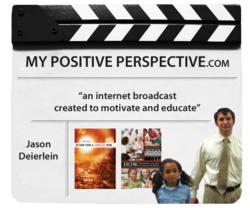 It's so important to stay positive...even if you're in a coma...
Charleston, SC (PRWEB) February 09, 2012
In February 2007, Jason Deierlein published Return From a Comatose Mind. 5 years later, My Positive Perspective founder, recalls the feelings and reasoning his body and mind did while he was in a lengthy coma. Although his body had changed after being involved in a car accident, his mind remained strong. His mind knew that his body would be able to withstand the car accident because of his previous success and training regimen as a competitive swimmer.
Jason recalls knowing if he woke from the coma, he would be facing a "larger than life" situation, but that was okay because he had been in larger than life situations before. The pride he had felt after winning his first state championship at the age of 13 was something worth repeating.
Recollecting that feeling of pride was something Deierlein wanted again. Only this time it would be felt after overcoming the challenges posed to him after a car accident.
Return from a Comatose Mind was published in February 2007, and that was the catalyst for creating "My Positive Perspective;" a business Jason created to motivate and inspire others to overcome adversity. "It is very important to stay positive, even if one is in a coma."
The accident and subsequent coma was 16 years ago. On the 5th anniversary of publishing "Return from a Comatose Mind," highlighting that tragic event & recovery, Jason Deierlein wants young people to "...understand how important it is to take life seriously and be good to their bodies while they can."
As a traumatic brain injury survivor, Jason wants kids in school to realize that having a strong body and mind is vital. Being mentally and physically strong is what enabled Jason to eventually regain his senses as he was coming out of his car accident related coma.
Jason's message to all is that we should appreciate our strengths while we have them. One never knows what tomorrow holds. Being of sound mind, body, and soul can help us when tragedy strikes and also help us as life throws us trials.
"I got back into life after years of painful physical therapy. I got back my sight, learned how to walk & move again, and to speak again. I've recovered from the physical pain of the tragedy.
The mental anguish I conquer daily by always remembering gratitude for life & keeping a positive perspective! I overcame tragedy & that's why I created http://MyPositivePerspective.com - to give others a place to share their life-changing stories with the world, too; and especially to motivate kids to take care of themselves so WHEN / IF a traumatic injury occurs, they will be prepared to overcome it and make the most of the life they are gives." - Jason Deierlein
###