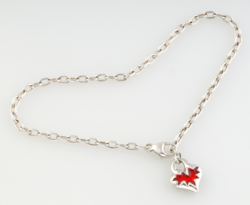 ...let someone else try their luck with the gifts you've received from past lovers.
New York, NY (PRWEB) February 08, 2012
Today, WebThriftStore.com, the first online thrift store platform for charities, launched their first Valentine's Day sale of ex-lovers' gifts, with all proceeds going to charity.
Famed New York jewelry designer Margo Manhattan donated one of her popular "Mini Prisoner of Love" bracelets to help raise money for the ASPCA® (The American Society for the Prevention of Cruelty to Animals®). The captivating and fun, edgy enamel red heart makes sure that you won't be without love. The bracelet sells for $155, all of which goes to benefit the ASPCA. You can find it at http://bit.ly/ymAiqF. In addition to purchasing the bracelet, you can also present your best offer. All details are on the product's page.
WebThriftStore.com features a variety of gifts for your Valentine, including clothing, jewelry, collectibles and electronics, all donated by individuals to benefit charity. Like offline thrift stores, WebThriftStore.com is a great place to find unusual items and incredible bargains. WebThriftStore.com is also the place to donate stuff you don't need anymore, like a Valentine's Day gift from an ex-lover. The best part is, shopping and donating can be done from the comfort of your home.
"This Valentine's Day, let someone else try their luck with the gifts you've received from past lovers. We all hold onto stuff we don't need or use. WebThriftStore is a great way to get new value from our belongings, and have it benefit charity. You also get a tax deduction for the value of what you donate." said Douglas Krugman, Founder and CEO, WebThriftStore.
Additional items of interest for Valentine's Day include a David Yurman Silver & Gold Bracelet, a Flip UltraHD Video Camera and La Maison du Chocolat $75 Gift Certificate for $50.
To date, charities with online stores include the ASPCA, Class Wish, Maccabi USA and the East River Development Alliance. More non-profits will be added this month.
About WebThriftStore.com
WebThriftStore.com enables any registered charity to create an online thrift store to which supporters, from the comfort of their homes, can list items for sale to benefit charity. Buyers can shop for great bargains knowing that their payment goes to charity and all items carry a 30-Day Buyer Assurance Guarantee. Donors receive a tax receipt for 100 percent of the value of their item, prepaid shipping labels, free shipping supplies and free pickup from the United States Postal Service (USPS). Any registered 501(c)(3) charity can partner with WebThriftStore to open its own dedicated online store, with no up-front fees or subscription fees. Founded in 2010 by Douglas Krugman, an experienced company builder with deep technical, financial and business skills, the business is headquartered in New York City. For more information, visit http://www.WebThriftStore.com. Follow WebThriftStore.com on Facebook at http://www.facebook.com/WebThriftStore and on Twitter @WebThriftStore.
About Margo Manhattan
Margo Manhattan is an internationally-renowned jewelry designer who began making jewelry in the byzantine technique at the tender age of 15. A graduate of FIT, Manhattan has worked at the Studio Bercot in Paris and with fashion legends such as Karl Lagerfeld, Patrick Kelly and famed Vogue photographer Arthur Elgort. In 1990, Manhattan created symbolic, ground-breaking designs: first the Earth pin for Earth Day (1990), followed by the original red ribbon lapel pin for AIDS Awareness (1991) and the pink ribbon for breast cancer for Estee Lauder's Breast Cancer Research Foundation and other breast cancer fundraising efforts. Manhattan developed a reputation as a visionary, socially aware designer. For more information, visit http://shop.margomanhattan.com/
###