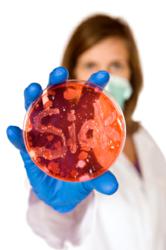 fiteBac SkinCare Germicidal Gel is the holy grail of hand hygiene
Marietta, GA (PRWEB) February 08, 2012
fiteBac™ SkinCare, LLC, a subsidiary of a Georgia-based biotechnology company, has designed an innovative hand gel that will clean hands without compromising the skin's natural softness. The new fiteBac SkinCare Germicidal Hand Gel does the job of typical hand sanitizers, but with one major difference: while most hand sanitizers rely on alcohol to kill germs, the fiteBac gel is alcohol-free. It can perform the same job as an alcohol-based sanitizer, but without the skin-irritating side effects. In fact, the fiteBac gel actually helps the skin to maintain moisture even as it kills germs.
fiteBac's alcohol-free products will be embraced by healthcare professionals who are tired of compromising their skin in order to clean their hands. Healthcare professionals currently have two options for observing hand hygiene protocol: wash hands with antibacterial soap and water, or apply alcohol-based hand sanitizer s to hands. Both options dry out and hurt the skin. fiteBac's products will add a third option, the best option to the mix: apply a non-alcohol-based sanitizer that will not only clean your hands, but will moisturize them, too, reducing drying and cracking associated with frequent hand washing and exposure to alcohol-based sanitizers.
fiteBac anticipates that its dual-purpose products will encourage healthcare professionals to observe better hand hygiene practices. And the ramifications of the fiteBac gel go beyond its impact on the healthcare industry: fiteBac wants its products to become the standard for hand hygiene everywhere--not only in hospitals, but in schools, airports, movie theaters and homes. "This is the holy grail of hand hygiene," says Dr. Kirk Kimmerling, founder of Kimmerling Holdings Group, LLC, the Georgia-based biotechnology company that owns fiteBac SkinCare. "It will change everything about the way people practice hygiene."
fiteBac believes so strongly in the capability and impact of its products that the company has now put its sanitizer gel in the hands of US healthcare officials, medical and dental schools, hospital corporations, and major hospitals for product testing. fiteBac also provided 3oz samples to major healthcare representatives as part of a Clean Hands around the World Campaign. Dr. John Molinari, from a renowned infection control expert from THE DENTAL ADVISOR conducted a product analysis of fiteBac's hand gel and found that fiteBac's hand gel exhibits high levels of germicidal activity. Findings are expected to be published soon. His preliminary report will address the future of hand hygiene protocol and fiteBac's role in improving hand hygiene.
About fiteBac™ SkinCare, LLC, and KHG:
fiteBac SkinCare, LLC, is a subsidiary company of Kimmerling Holdings Group, LLC ("KHG"), a Georgia-based biotech company that has developed an antimicrobial platform intellectual property technology. KHG was founded in 2009 by Kirk Kimmerling, DDS, dentist in Marietta, GA and Dan Kearney. The two set out to create products that would "change the world, one product at a time." Kirk and Dan first targeted bacterial issues in dentistry, knowing that solving those problems would lead to dramatic improvements in oral health and, more importantly, systemic bodily health. They engaged a team of highly accomplished chemists and scientists retired from Fortune 500 companies and researchers from major universities. In doing so, KHG has developed technology with several patents pending that has application well beyond dental materials. Exciting potentials in medical, plastic, composite, coating, and other applications are forthcoming. Additionally, other applications are in various stages of development. fiteBac SkinCare Hand Softening Gel is the first product to be released under the fiteBac brand name. To learn more about fiteBac SkinCare Germicidal Hand Softening Gel, watch our fiteBac SkinCare video.
# # #