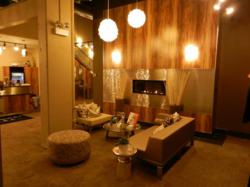 Uptown is a great neighborhood for CorePower Yoga.
Chicago, IL (PRWEB) February 08, 2012
CorePower Yoga, known for invigorating and unique yoga classes and lifestyle programs, recently opened its eighth Chicago location in Uptown. CorePower Yoga – Uptown opens on the heels of the newest Lincoln Square studio and joins the Bucktown, Gold Coast, Lakeview, Lincoln Park, Roscoe Village and South Loop locations in providing Chicago residents and visitors with a community passionate about healthy living, a great workout and the mind-body connection.
"Uptown is a great neighborhood for CorePower Yoga," said studio manager Tanya Lopresti. "Our location will have three large and luxurious studio spaces as well as a variety of classes to fit anyone's schedule," said Lopresti.
CorePower Yoga – Uptown will offer the company's proprietary Power Yoga in beginner to advanced formats, Yoga Sculpt, Hot Yoga and Hot Power Fusion as well as the new CorePower Ryder classes that combine the cardio benefits of indoor cycling with the flexibility, strength-building and calming perks of a yoga class. The Uptown studio will also offer yoga Teacher Training and specialized lifestyle programs that focus on physical, mental and spiritual growth and wellness.
CorePower Yoga – Uptown is located at the corner of W. Montrose and N. Broadway. The studio houses three large climate-controlled studio spaces, men's and women's locker rooms with fully stocked showers and a retail boutique featuring popular yoga apparel brands.
For more information, visit corepoweryoga.com.
About CorePower Yoga
CorePower Yoga's unique and physically challenging style of heated power yoga combines energy, music, movement and community to create a one-of-a-kind yoga experience. CorePower Yoga offers a variety of classes catering to all levels including CorePower Yoga, its proprietary heated Power Yoga, Hot Yoga, Hot Power Fusion, Yoga Pilates, Yoga Sculpt, a Vinyasa flow combined with weights, and CoreRestore, a restorative yoga practice. All yoga classes encompass a wide variety of asanas, or poses, and are taught by certified yoga instructors. In addition to yoga classes, CorePower Yoga offers transformative integrated wellness programs and Teacher Trainings to empower students to live a health-focused and extraordinary life.
###