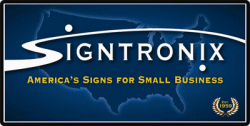 Torrance, CA (PRWEB) February 08, 2012
Signtronix, the largest sign company for small businesses across America, has distributed almost $100,000 in referral bonuses from its Cash Awards referral program launched last year. Signtronix Cash Awards program information is available on http://www.SigntronixCashAwards.com.
The Signtronix Cash Awards program is a referral program that allows anyone to make extra money while helping their friends or family grow their business through the use of a new Signtronix sign. Each time Signtronix makes a sale off a referral somebody submits, the referrer receives $50.00. There is no limit to the number of referral someone can submit to the Cash Awards program.
"This is a fantastic program and a win-win-win for everyone involved," said Tom Johnson, President of Signtronix. "The businesses who purchase their new signs of course win because they have a new marketing tool to bring customers in their doors and grow their business. The referrers win because they get cash paid to them for their referrals. Signtronix wins because we receive new, happy customers who will spread the word about how our signs helped them grow their business."
"If anyone has a friend or family member who owns a business and wants to help them grow their business and make it thrive, please refer them to us for a beautiful and eye-catching new sign. You can submit the referral in a matter of a minute on our referral website at http://www.SigntronixCashAwards.com. Or you can download the form on the site and mail it to us." Said Tom Johnson Jr., Director of Marketing for Signtronix.
To learn more about the Signtronix Cash Awards referral program please visit their website at SigntronixCashAwards.com or you can call Signtronix directly at (800) 729-4853.
About Signtronix
Signtronix (http://www.signtronix.com) is the premiere sign manufacturer for small businesses across the United States. The company was founded in 1959 and has helped over half a million customers in its 50 year history. Signtronix offers many different sign products from outdoor electric signs, LED messages signs and indoor and window signs to help America's small businesses get the exposure they need to their passing public and potential customers. Signtronix is proud to be an ESOP (employee stock ownership plan) company which is owned and operated by its employees. If you wish to view Signtronix on Facebook then visit http://www.facebook.com/signtronix or you can join us on Twitter at http://www.twitter.com/signtronix.
To learn more about Signtronix please contact Tom Johnson Jr. at trj2(at)signtronix(dot)com.
###