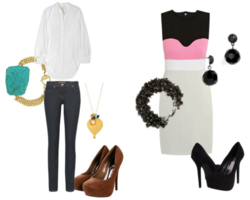 Local Hem's directory of online boutiques and designers provides endless opportunities to put together casual or formal ensembles suitable to any style or venue.
Cambridge, MA (PRWEB) February 08, 2012
With Valentine's Day less than two weeks away, it's time to start finalizing the details that have the ability to make this Valentine's Day truly memorable (whether it's spent with a boyfriend or a best gal pal). To do so, Local Hem recommends aiming to appeal to all five senses. Flying alone this year? These tips and tricks are perfect for a girls' night out or a February 14th spent solo.
Sight: Sight is the most important sense to appeal to (there's a reason for the expression "love at first sight"). Local Hem suggests tackling this first sense by choosing an outfit that will make his jaw drop the moment he sees you.
Local Hem's directory of online boutiques and designers provides endless opportunities to put together casual or formal ensembles suitable to any style or venue. If you and your date choose a formal restaurant, Local Hem suggests a head-turning cocktail dress that shows just the right amount of skin, designer heels you can comfortably walk and dance in, and accessories that have a little extra sparkle. Men love it when you dress up for them, even if they won't admit it.
If you've chosen to spend the evening at a more casual venue, check out Local Hem's designer denim lines like J Brand and William Rast. Their tips for achieving a casually chic look? Go for a pair of denim that accentuates your best assets, top it with a silk or sheer top, and a pair of sky-high heels (when in doubt, always choose heels).
Touch: Since it is Valentine's Day, Local Hem has assumed there may be some cuddling involved. To ensure he gets a shiver up his spine when he puts his arms around you, Local Hem suggests choosing silky fabrics. The cool-to-the-touch effect the smooth fabric has will keep your date on his toes. Shop Local Hem's online boutiques for Elizabeth and James Sequins Willow Top or the Alice + Olivia Zelda Bell Sleeve Top.
Smell: Local Hem has assured us that a dab of perfume behind each ear and on each wrist can be a game changer. The sense of smell has the ability to instantly evoke a memory or feeling. What day is better to use this to your advantage than Valentine's Day? Statistically, men prefer vanilla scents on a woman, but regardless of the fragrance you choose, Local Hem maintains that the right scent is an integral part of any ensemble and can absolutely intensify the knee-weakening effect of your wardrobe choices.
Hearing: Local Hem adamantly recommends that no sappy love songs, mix tapes or Justin Bieber lyrics make an appearance on your date. Whether you're at a restaurant or spending the day at home together, your voices are enough so choose something mellow and wordless.
Taste: While a pink, heart-shaped box of chocolates may not be at the top of your wish list, don't let that stop you from tantalizing your date's taste buds! Take advantage of the old "fastest way to his heart is through his stomach" adage and offer up something simple, but heartfelt. Homemade chocolate chip cookies, a six-pack of his favorite beverage or, if you're feeling especially ambitious, an entire home cooked meal are a few ideas worth a try. Valentine's Day may be directed at women, but that's no reason why you shouldn't be spoiling your date too!
Spending Valentine's Day with a best gal pal? Check out Local Hem's latest Pinterest boards for girl's night cocktails, snacks and dressed-down ensembles from the boutiques.
Regardless of whether your date is just-a-friend or more-than-a-friend, covering all of your bases with Local Hem's five senses tip will ensure this is the best Valentine's Day to date.
ABOUT LOCAL HEM
Local Hem is an online boutique shopping platform allowing visitors from anywhere in the world to shop a selection of the best independent, local boutiques online. Visitors to the site can discover and shop boutiques by location, category, designer or specific trends. Each online boutique is handpicked for Local Hem based on its commitment to offering unique, high-quality merchandise and customer service, resulting in a carefully curated selection of the best local boutiques.
# # #