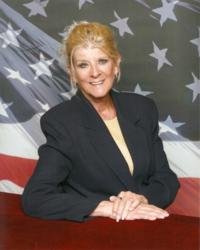 I applaud Pete [Hoekstra] for his blunt message, too often people dance around the facts and avoid what's really going on.
Put-in-Bay, OH (PRWEB) February 08, 2012
Today Donna Glisman, the Republican US Senate candidate from Ohio sent a letter of support to fellow Republican Pete Hoekstra from Michigan, in regards to his controversial Super Bowl ad. His ad features an Asian woman speaking on the decline of the American economy versus the growth of China's. Glisman believes the message hits the nail on the head in a key issue and does not see any reason for the controversy.
Candidate Glisman states, "I applaud Pete [Hoekstra] for his blunt message; too often people dance around the facts and avoid what's really going on. By no means did I find this offensive; it communicated to me a growing economic problem that our nation is faced with and needs to address. This ad was no different than back when I was growing up in the middle of World War II, with Anti-Nazi Germany propaganda everywhere you looked, even in children's cartoons. I hail from a German background. My grandparents migrated here from Germany in the early 1900s, and we were never offended by the representation of the Germans in those ads. Regardless of our heritage, we were red blooded Americans above all else--united as patriots in support of our nation. This is the melting pot, after all, and no matter what your race, or origin, we're all in the same boat as countrymen. I feel it's time we put America first, because now we're in an economic war with China. When you look at how our economy is faltering while China is exploding as a global leader, I'm afraid we are losing this battle. Perhaps this ad could have been better if filmed at a Chinese auto factory, but the message remains clear. We need to stop nitpicking irrelevant details and calling them offensive. There are scenes similar to this ad, on National Geographic television all the time, and nobody complains. What offends me is how we buy more goods from China, than what they buy from us, as we spend the country into an abyss of debt! We are a strong nation of hard working men and women that are very good at making things; it's time we get some respect and balance in our international trade."
Glisman is seeking the Republican nomination in the March 6th, 2012 election in Ohio for the U.S Senate. Donna stands for conservative values, small government and personal freedom; she wants to restore the American economy and bring manufacturing jobs back to her region. Her experience combines entrepreneurship, factory work at Chrysler, sales management, and public service on the board of public affairs and as a Republican delegate. She is only the 2nd Republican woman to ever run for U.S. Senate in the state. For more information on Donna Glisman visit http://www.VoteGlisman.com or email Info(at)VoteGlisman(dot)com.
###