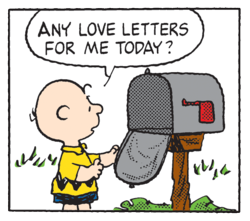 "Wouldn't it be great if that little red-haired girl gave me a Valentine tomorrow?"--Charlie Brown, Peanuts, February 13, 1964
(PRWEB) February 07, 2012
* Share your favorite PEANUTS Valentine's Day memories.

Catch a shout-out from Ariana Grande, star of Nickelodeon's "Victorious," and ask her questions about her career.
Get great Valentine's Day gift ideas, like Hallmark cards, Whitman's chocolates, dancin' Cupid Snoopy plushes, DVDs--and the new limited-edition Uniqlo tees, featuring everyone's favorite beloved PEANUTS characters, Charlie Brown, Lucy, Linus, Sally, Woodstock, Schroeder, and Snoopy!
Check out the special Valentine's features on the new "Snoopy's Street Fair" digital game--like the "Love Test Machine" and the flower-seller's stall.
Follow hashtag #snoopyvalentine.
###