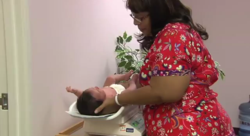 We recognize the specialness of [giving birth], and not only are dedicated to helping moms have a safe and healthy delivery, but a rewarding one also.
Riverside, CA (PRWEB) February 10, 2012
As technology continues to advance, and more and more professional and personal interactions are conducted virtually over the Internet, it is easy to forget just how important it is for humans to remain in physical contact with one another. However, one Riverside-based nonprofit community hospital has remained dedicated to maintaining the intimate, and unmatched connection that can only occur through physical interactions. That hospital is Parkview Community Hospital, and through their recently acquired "Baby-Friendly" designation, they uphold this standard of personal human interaction right from the moment of a child's birth.
Jenny Pricer explained that Baby-Friendly is a global organization that "recognizes hospitals that provide an optimum care of breastfeeding for mothers and babies," and that Parkview is one of 121 hospitals (about 5% in the nation) to receive this recognition, which is surprising considering the unparalleled benefits breastfeeding offers both mother and child."
As a board-certified lactation consultant, Pricer detailed what patients of Parkview Community Hospital learn through the 10 step Baby-Friendly program they developed to help mothers become more successful at breastfeeding. "We know that breastfeeding not only contributes to health during infancy, but continues on throughout that child's life" Pricer explained "Babies who are breastfed for a minimum of 6 months…are less likely to be obese as adults, have a reduced instance of sudden infant death, less upper respiratory infections, and less asthma and allergies in the first year of life." In addition to all of the advantages children gain if breastfed as babies, mothers who choose to breastfeed benefit as well with a reduced incidence of heart disease—the number one killer of women over 50 in the USA.
Given all the incredible advantages breastfeeding provides both mother and child, it's amazing to see how infrequently proper breastfeeding practices are implemented in today's hospitals. From the very beginning, mothers at Parkview Community Hospital get the support for providing the best for their babies. Right at the time of birth, babies are placed skin-to-skin on their mothers for what Pricer described as "The Golden Hour"—an ideal window of opportunity that benefits both mother and child physiologically and emotionally, and contributes to a successful bonding experience. It is during this time that breastfeeding may also be introduced with help from a compassionate and certified lactation consultant, available on-site 7 days a week. Unlike most hospitals, mother and child are not separated, and remain together for the rest of their stay.
As the only nonprofit hospital in Riverside, Parkview Community Hospital is devoted to serving the healthcare needs of the growing community through all stages of life, from newborns to seniors. The hospital offers 24-hour emergency services and critical care, and several centers of excellence including weight loss surgery, a joint replacement center, and maternity services. Most recently, the hospital has been updating its Maternal-Child Health Unit with state of the art LDR rooms, dedicated cesarean rooms, a level 3 NICU, prenatal classes, and neonatologists. Pricer validated Parkview's distinction as a hospital that truly cares for its patients', especially in regards to the new born child: "We recognize the specialness of that moment, and not only are dedicated to helping moms have a safe and healthy delivery, but a rewarding one also."
For more information
Contact: Marlene Burnett
Parkview Community Hospital
951-352-5647
mburnett(at)pchmc(dot)org
# # #