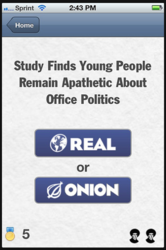 "Publications patch together unintentionally hilarious headlines all the time."
San Francisco, CA (PRWEB) February 08, 2012
The truth is often stranger than fiction. No publication captures that better than the satirical newspaper The Onion, which serves up ridiculous articles that many people confuse with reality. (Right, Congressman Fleming?) Today, the online publication GelfMagazine.com – with licensing from The Onion - announces the launch of the Real Or Onion iPhone app. The mobile app is available in the app store for $0.99. A free 'lite' version of the app is available as well.
To get a sense of the Real Or Onion experience, consider the following headlines, three of which are real, and one of which is from the satirical newspaper The Onion:

Grandma Shuts Down Entire Country's Internet
27% of Communication by Members of Congress is Taunting, Professor Concludes
Lindsay Lohan Went Out Last Night
Apple Hard At Work Making iPhone Obsolete
It's hard to tell. The first three are headlines from real news sources (from FOX News, The Washington Post and TMZ, respectively), and the last one is from The Onion. The Real Or Onion game presents users with absurd headlines culled from a range of publications, and asks the players to determine whether a headline is authentic or a work of satire. For headlines that prove too good not to be true, users are presented with a link to the original story along with a witty comment and stats about how many people answered correctly. All Onion headlines and the Onion logo are used with their permission.
The app features more than 600 headlines. The lite version, which is available for free download, has 30 headlines for users to sample before being directed to download the full version. Additional custom versions of the app that focus on a news category or pull solely from a single real news outlet are also in development.
Additionally, the @RealOrOnion Twitter account and Facebook page actively share and receive humorous headlines, some of which are eventually submitted into the app.
Real Or Onion is the brainchild of Adam Rosen, an editor at Gelf Magazine, and David Goldenberg, one of Gelf's co-founders. Why are real headlines reading more and more like satire these days? "Many news organizations, desperate to stay afloat in these trying times, are doing a combination of things that lead them down the Onion-y path," Goldenberg says. "They pump out way too much content with far too little thought about what's actually newsworthy. And in an attempt to be both SEO-friendly and catchy, they patch together unintentionally hilarious headlines all the time."
For more information, including screenshots and a short video, visit http://realoronion.com/.
Links:
Real or Onion App on iTunes: http://bit.ly/realoronion
Real or Onion Lite App on iTunes: http://bit.ly/realoronionlite
###