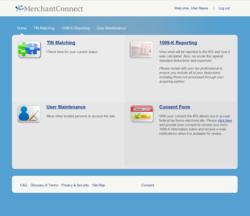 City of Industry, CA (PRWEB) February 08, 2012
To meet new 2012 IRS requirements all credit card processors are required to report credit card transactions from the 2011 fiscal year. US Bankcard Services, Inc. (USBSI) works with payment partner Elavon, who provides merchants with a 1099-K form to verify the gross credit card transactions that merchants report to the IRS. This form was provided to merchants on or before January 30, 2012 via Elavon's Settlement Reconciliation Services (SRS) system. USBSI is proactive in easing the transition process for its merchants by educating them about these new requirements and making sure that they have submitted all the necessary and correct information.
In order to make the transition easier Elavon provides merchants with a monthly online statement service at http://www.merchantconnect.com. A link can be found in the footer of USBSI's website. Merchants were given the choice to receive their 1099-K electronically or by mail. If a merchant decided to receive the form electronically, they were able to do so by logging in to merchantconnect.com and logging into SRS reporting. New merchants would be able to access the website, use their Merchant ID numbers, and create their password within a month of signing up with USBSI.
In addition, USBSI recommends that merchants utilize merchantconnect.com to verify that their Tax Identification Number (TIN) is correct. Any discrepancies can be resolved by submitting a W-9 form to Elavon. By helping merchants login to merchantconnect.com and making sure TIN is correct via Elavon SRS, USBSI's customer service teams are ensuring that the most current and accurate record of credit card transactions are sent to the IRS.
USBSI's multilingual customer service and technical support teams are happy to assist merchants with accessing and navigating the website, as well as answering any questions or concerns about the new requirements. USBSI's effort to ensure that its merchants are compliant with all industry regulations is another example of its dedication to its merchants and its role as a leader in the credit card service industries.
About US Bankcard Services, Inc.
US Bankcard Services, Inc. is a top rated MSP that offers competitive rates, dedicated customer service support, and cutting edge technology in credit card processing service. USBSI offers a wide array of value-added services, including QuickDining.com (QD) restaurant e-commerce, gift card services, check guarantee, PCI–DSS compliance consultancy, 24-7 multilingual customer service and technical support. US Bankcard Services, Inc. is a registered MSP/ ISO of Elavon, Inc. Georgia
For more information about merchant bankcard services please visit us at usbsi.com or call us at: 1-888-525-8558.
###