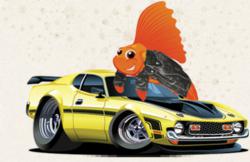 Who doesn't want to see a girl in a bikini hosting a TV show?
New York, NY (PRWEB) February 07, 2012
RoadFish.com men's lifestyle and finance magazine today offered admiration and praise to Maria Menounos after the "Extra" host held up the losing end of a Super Bowl bet. So much more than a money bet, the die-hard Patriots fan had to sport a Giants-colored bikini during Monday night's broadcast of "Extra" in the middle of Times Square.
Joyce Chen of the NY Daily News reports that 33-year-old Menounos bet against "Extra" co-worker and correspondent A.J. Calloway that the New England Patriots would win this year's Super Bowl. A Giants win meant that Menounos had to don a red-white-and-blue Giants colored bikini on the next broadcast of the show. Had the Patriots won, Calloway would have had to wear a Patriots cheerleader uniform. Menounos stated as she stripped down to her bikini on Monday night in the middle of Times Square, "I hate bets. I'm never doing this again."
RoadFish.com's editor was quoted saying, "Who doesn't want to see a girl in a bikini hosting a TV show? It works for me. People seldom are willing to admit it publicly, but nothing sells better than a hot girl. We have tested it, and it is a proven fact."
Maria Menounos is originally from Medford, Massachusetts. Her career launched when she was hired out of college to be a reporter for Channel One News. Menounos has worked as a correspondent for "Entertainment Tonight," "Access Hollywood," "Hollywood Green" and "Today." She has also explored a career in acting, including roles in episodes of Entourage, Scrubs, One Tree Hill, and a cameo of herself in "Tropic Thunder." In 2011, Menounos took on a co-anchor position for the WB's "Extra" alongside Mario Lopez.
RoadFish.com's editor applauded Menounos for "losing gracefully, and for having the guts to follow through with the losing end of a bet."
"Extra" covers the latest news on events and celebrities, and airs on weekdays and weekends.
About RoadFish.com
RoadFish.com is an online men's lifestyle and finance magazine targeted toward men in their 30's and 40's that have already attained a moderate level of success in life, and are striving toward more. It goes over current events of interest to this group, such things as exciting adventures, luxury items, and finances as well as ways to make more and save more money. It is a publication owned by Purpose Inc.
###