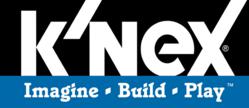 Hatfield, PA (PRWEB) February 09, 2012
K'NEX Brands, the US construction toy company focused on Building Worlds Kids Love™, is pleased to introduce its first series of K'NEXmen Mystery Figure
2-Packs. Each set includes not one, but two, cool K'NEXmen figures! Young building fans ages 5+ will love collecting and building 16 different figures across many themes including pirates, astronauts, pilots, race car drivers, zombies and more! The sets are bagged in 10 different pairs and there are a total of 16 different figures available in this first series. Some figures are more elusive than others, so you never know what you might get! Compatible with all leading building sets.
Suggested retail price $2.99. Available fall 2012.
The new K'NEXmen Mystery Figure 2-Pack building sets will be available on knex.com and at toy retailers nationwide.
About K'NEX Brands
Founded in 1992, K'NEX Brands, the world's most innovative construction toy company, was established to make and sell what has become one of the world's leading integrated construction systems for children. Winner of over 200 international awards and recognitions, K'NEX is America's building toy company focused on Building Worlds Kids Love, and encourages youngsters to "imagine, build and play." For more information, please visit http://www.knex.com.
###