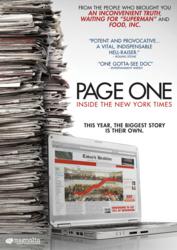 Page One will inspire and remind you that journalism is alive and well in an ever-shifting landscape.
Des Moines, IA (PRWEB) February 08, 2012
CDS Global, in conjunction with Des Moines-based social media consultancy Lava Row, is hosting a networking mixer and screening of Page One: Inside the New York Times on Thursday, Feb. 23, 2012, at Fleur Cinema (4545 Fleur Drive in Des Moines).
Premiered at the 2011 Sundance Film Festival and released theatrically the summer of that year, the documentary provides a unique glimpse into the Times' new media fight for survival during the print crisis and how it successfully adapted to the digital age.
Kristin Runyan, chief information officer and vice president of product management at CDS Global, says, "Page One truly hits home with CDS Global as we partner with clients across the media industry to maximize their use of digital technology and help them monetize their content in a new-media world." She adds that co-hosting the screening with Lava Row provides an opportunity to bring together our extremely talented local media and technology professionals. "This is a testament to the expertise and far-reaching influence of technology-driven companies based right here in Des Moines," she says.
Nathan Wright, founder of Lava Row, believes Page One can provide valuable insight to CDS Global and locally based tech companies alike. "I watched Page One a couple of months ago and immediately felt that anyone who works in journalism, new media – or at the intersection of both worlds – must see this film. Page One will inspire and remind you that journalism is alive and well in an ever-shifting landscape," he says.
Networking will be held from 6-6:45 p.m. Runyan and Wright will deliver introductions at 6:45 p.m. and the film will run from 7-8:30 p.m.
Admission is free. You must obtain tickets in advance at PageOneDM.EventBrite.com. The first 50 tickets ordered will include two free drink tickets, a small popcorn and a box of candy.
About CDS Global
CDS Global is a leading provider of outsourced business solutions to multiple industries, delivering an array of innovative and flexible eCommerce, order management, fulfillment, payment processing and marketing services. By maximizing the value of data, CDS Global effectively manages its clients' interactions with their customers and creates a positive impact on the bottom line of its clients.
CDS Global is a wholly owned subsidiary of Hearst Corporation, one of the nation's largest diversified media companies. Corporate headquarters are located in Des Moines, Iowa, with offices across Iowa and in Arizona, New York, Pennsylvania, Texas, Australia, Canada and the United Kingdom. Learn more at http://www.cds-global.com.
About Lava Row
Lava Row is a social media consulting and education firm based in Des Moines, founded by Nathan T. Wright in 2007. Lava Row helps large brands and corporations use social media to improve their communications and uncover new business opportunities.
Learn more at http://www.lavarow.com.
For more information, visit the Facebook event page. The event's Twitter hashtag is #pageonedm. Please contact CDS Global's Xochi Adamé at xadame(at)cds-global(dot)com or 515.471.5794 with additional questions.
###