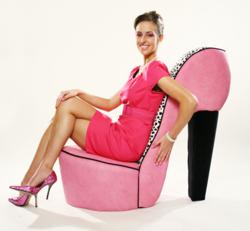 "Tony and Jimmy have made history by changing the way people shop and search for information online," said Jesse Draper, host and producer of "The Valley Girl Show."
Palo Alto , California (PRWEB) February 08, 2012
This week Jesse Draper, host and producer of "The Valley Girl Show," sits down with Jimmy Wales, co-founder of the non-profit encyclopedia Wikipedia and the Wikia, and Tony Hsieh, CEO of Zappos. Draper talks with Wales and Hsieh about everything from how they started out as internet entrepreneurs to why communities are key to successful companies.
"Tony and Jimmy have made history by changing the way people shop and search for information online," said Jesse Draper, host and producer of "The Valley Girl Show." "Interestingly, both Tony and Jimmy focus on company culture and the communities that they are building. They understand the value of a strong community."
In the episode with Jimmy Wales launching February 8, Wales shares how Wikipedia grew from a failed company and is now the fifth most popular website with more than 421 million people visiting every month. Thousands of people are involved with Wikipedia, and the site currently works in over 200 languages.
In the episode with Tony Hsieh airing February 9, Hsieh talks about the company's unique culture, core values, customer service and his favorite foods. He chatted with Jesse about how Zappos' company culture is always evolving and how he encourages his 3,500 plus employees to continue to grow both professional and personally. From the early days of Zappos, Hsieh wanted to provide the best customer service and he knew the company culture had to be strong. Later in the interview, Tony spoke in depth about his biggest focus at the moment—creating a renaissance in downtown Las Vegas that offers a "live, work, play" destination for Las Vegas' emerging creative class.
"The Valley Girl Show," which can be compared to a business-oriented version of the "Ellen DeGeneres Show," kicked off its fourth season November 2011 with more than 50 new episodes. Ms. Draper interviews the biggest names in business and technology including Ted Turner (Founder of CNN), Craig Newmark (Founder of Craigslist) and Eric Schmidt (Former CEO of Google). The show is a balance of fun games, tough questions, and educational takeaways.
Check out the new episodes with Jimmy Wales and Tony Hsieh on "The Valley Girl Show" at http://valleygirl.com.
# # #