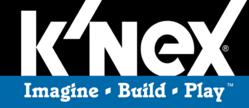 Hatfield, PA (PRWEB) February 09, 2012
K'NEX Brands, the US construction toy company focused on Building Worlds Kids Love™, is pleased to introduce four new roller coasters to its hugely popular Thrill Ride line of building sets. Sure to spark creativity, the coasters offer explosive fun for builders ages 9+ and include American made rods & connectors.
Rippin' Rocket 2 Coaster™
The Rippin' Rocket Returns! Build an amazing coaster that soars 4 feet high! Loaded with over 500 K'NEX pieces including classic rods and connectors, this model boasts over 20 feet of twists, turns, and daring loops. A special motorized blaster launches the coaster car into its exciting journey around the track. For more fun kids can go to knex.com to download instructions for a 2nd cool coaster. Suggested retail price $59.99. Available fall 2012.
Atomic Coaster™
Clocking in at over 4 feet tall and with more than 37 feet of track, the Atomic Coaster is "explosive" building fun for every K'NEX fan! With exciting twists & turns, bright colors, and motorized action this dueling coaster set will leave kids wondering who will make it to the bottom first! Includes over 850 K'NEX pieces, a motorized, vertical chain lift to launch the 2 dueling coasters, and 2 tracks guaranteed to induce a jaw-dropping building and racing experience. Step-by-step, color-coded building instructions also included. Suggested retail price $69.99. Available fall 2012.
Son of Serpent Coaster™
Fans of the classic K'NEX Screamin' Serpent Coaster will not be able to contain their excitement when they catch a glimpse of our new Son of Serpent Coaster! In celebration of the K'NEX 20th Anniversary this coaster set includes over 5000 fan-requested, American Made, classic K'NEX pieces, builds over 5 feet tall and 7 feet wide and is modeled after authentic steel coasters! This vintage style coaster includes 53 feet of original K'NEX track, 2 motorized chain lifts, 5 rail-huggin' cars, 14 K'NEXmen figures, and color-coded building instructions. Also includes speakers for your MP3 player! (MP3 player not included) Ages 16+. Suggested retail price $999.99. Available fall 2012.
The new K'NEX Thrill Ride building sets will be available on knex.com and at toy retailers nationwide.
About K'NEX Brands
Founded in 1992, K'NEX Brands, the world's most innovative construction toy company, was established to make and sell what has become one of the world's leading integrated construction systems for children. Winner of over 200 international awards and recognitions, K'NEX is America's buildi ng toy company focused on Building Worlds Kids Love, and encourages youngsters to "imagine, build and play." For more information, please visit http://www.knex.com.
###