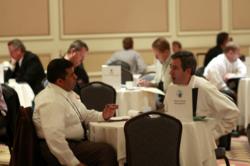 The Forum offers a personalized event, with pre-organized one on one meetings
Sarasota, FL (PRWEB) February 15, 2012
According to Forum Networking Events the majority of corporate buyers are no longer planning to attend their annual industry trade show.
Based on research conducted by Forum Networking Events, on past and future attendees to their Forums, some 55% have no plans to go to major industry events, citing travel costs and time out of the office as the main reasons.
In addition visitors are allowed only limited time to meet exhibitors. Some major Exhibitions are only open three hours a day, leaving booth holders kicking their heels with all the attendees locked up in conferences and workshops-and attendees little time to meet potential vendors.
"As a result show organizers are shooting themselves in the foot with exhibitors seeing less and less of the people they want to meet." says Paul Rowney, CEO of Forum Networking Events
The 'Business Speed Dating' Forum offers proven alternative for busy executives.
"In contrast," continues Rowney, one of the originators of the concept, "the Forums offer a day full of one on one face to face meetings. Making it a highly effective way for suppliers to meet potential buyers. For the buyers they are updated and briefed from suppliers they have chosen to meet in a relaxed and efficient manner."
Major buyers don't have time to attend traditional trade shows...'business speed dating' allows them to meet and review a wide range of solution providers in just one day. Research by Forum Networking Events and its UK company, Forum Events, amongst its attendees over the past 10 years consistently shows that "98% prefer them to a trade show" as a way of finding new suppliers", and 96% of vendors say "it is a better way to source potential new clients than a trade show."
As a result Forum Networking Events is expanding its range and frequency of Forums during 2012 and 2013. On April 25th the Education Facilities Forum, Healthcare Facilities Forum and Education Security Forums will be held in Chicago.
Further events covering Facilities Management, Security, HR and Disaster Recovery will be held in New York and Dallas later in 2012
The Chicago Forums, to be held concurrently on April 25th, are complimentary to major buyers and users. In advance of the Forum buyers choose which of the vendors they would like to meet, then organizers, Forum Networking Events, produces personalized itineraries of 30 minute meetings for all the participants.
Forum Networking Events is based in Sarasota, Florida and organizes 12 Forums across the country in sectors covering Security, Facilities Management, Disaster Recovery and Human Resources. Headquartered in Hertford, England the company has been organizing Forums for over 16 years.
For more information contact Paul Rowney, CEO Forum Networking Events,
941 925 7585. paul.rowney(at)forumnetworkingevents(dot)com.
###