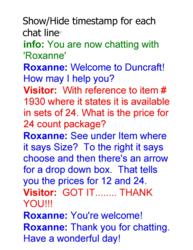 When I was contacted about Live Chat and heard what it could do for us, I said, "I want this immediately!"--Shelby Dunn-Kimball
Concord, NH (PRWEB) February 09, 2012
When a customer is on a website with credit card in hand, sometimes a simple, unanswered question can frustrate the customer and prevent a sale. Live Chat helps Duncraft answer questions instantly and solve problems quickly—faster than a phone call.
Always trying to positively engage customers, Duncraft recently introduced Live Chat to its web pages. Live Chat might be common on a technical site where a myriad of questions is inevitable, but is it necessary on a website that sells wild bird feeding products? Absolutely! Customers want help deciding which baffle they should buy to keep squirrels off their bird feeders. They want to know what feeders will attract which birds and what bird seed they should use. They might need help navigating the website or finding a specific product.
Live Chat also gives Duncraft an opportunity to suggest and sell other products that will make the customer's purchase even more enjoyable and rewarding. Here's where Live Chat really shines. Most helpful is a feature that lets the operator provide hyperlinks to the customer so they can easily click to products that may interest them. You can't do that on the phone! Another feature lets the operator see and click to a product the customer is viewing, so both the operator and customer are literally "on the same page"—navigating the website is easy and fast for both parties. When customers easily get answers to their questions and instant help with decisions, the next logical step is checkout!
Live Chat can also help customers having problems with their order. They may have entered the wrong zip code or address, typed in the wrong product number or want to add items to an order. Sometimes customers forget to enter promotion codes. Being able to make corrections instantly and on-the-spot is very reassuring to the customer. And making corrections before the order is sent to shipping saves a lot of time for Duncraft—the faster issues are resolved, the faster customers receive their orders.
Incorporating Live Chat into Duncraft's repertoire of communication tools has definitely been an effective, useful and positive experience both for Duncraft and Duncraft customers.
Founded in 1952 and located in Concord, New Hampshire, Duncraft's objective is to bring the joy of backyard birding to wild bird lovers all across the country. Mike Dunn, owner and CEO is constantly inventing and searching for innovative ideas in bird feeding—giving bird lovers years of bird feeding enjoyment, success and satisfaction.
Duncraft, Inc.
102 Fisherville Road
Concord, NH 03303
Tel: 800-763-7878
Fax:603-226-3735
###