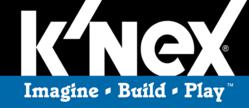 Hatfield, PA (PRWEB) February 09, 2012
Lincoln Logs, part of the K'NEX Brands family, the US construction toy company focused on Building Worlds Kids Love™, is pleased to announce a new addition to its product line.
A classic toy brand, Lincoln Logs were developed in 1916 by the son of famous American architect Frank Lloyd Wright, and has been entertaining and teaching children for over nine decades.
Cedar Creek Homestead™
Build a farmer's home-stead, complete with a farmer, dog and dog house! Cedar Creek Homestead includes real wood logs, plus colorful figures and accessories. Set includes 43 pieces and step-by-step building instructions. Suggested retail price is $19.99. Available now.
Although Lincoln Logs is a toy with a long history, it's a brand that delivers a lot of benefits to children today. Building with Lincoln Logs sets helps children develop fine motor skills and experience solving problems. Unlike many toys today, Lincoln Logs sets contain real wood logs with a reputation for quality and durability. Consumers can choose between building sets that combine real wood logs with plastic accessories or sets that contain 100% wood parts—just like they remember. Lincoln Logs has become more than just a toy brand… it has become an authentic piece of Americana.
About K'NEX Brands
Founded in 1992, K'NEX Brands, the world's most innovative construction toy company, was established to make and sell what has become one of the world's leading integrated construction systems for children. Winner of over 200 international awards and recognitions, K'NEX is America's building toy company focused on Building Worlds Kids Love, and encourages youngsters to "imagine, build and play." Since 1992, The Rodon Group, a subsidiary of K'NEX Brands, L.P., has manufactured over 30 billion parts for the K'NEX building toy system. For more information, please visit http://www.knex.com or http://www.rodongroup.com.
About Hasbro
Hasbro, Inc. is a branded play company providing children and families around the world with a wide-range of immersive entertainment offerings based on the Company's world class brand portfolio. From toys and games, to television programming, motion pictures, video games and a comprehensive licensing program, Hasbro strives to delight its customers through the strategic leveraging of well-known and beloved brands. LINCOLN LOGS is a trademark of Hasbro and is used with permission. © 2011 Hasbro, Inc. All Rights Reserved.
###