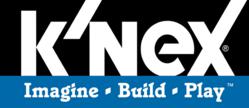 Hatfield, PA (PRWEB) February 09, 2012
K'NEX, the US construction toy company focused on Building Worlds Kids Love™, is pleased to introduce its newest Sesame Street Building Set – Best Friends on the Farm. Specially designed for children ages two years and up, the new set lets little builders bring their favorite Sesame Street friends, Elmo and Ernie, to life on the Farm! Little hands will have no problem building Farmer Ernie and Farmer Elmo with the 7 included chunky pieces. Great for gift baskets, stocking stuffers and first-time K'NEX builders. Suggested retail price is $5.99. Available spring 2012.
Since 2007, K'NEX has been a proud partner of Sesame Workshop, the non-profit educational organization behind Sesame Street. The new K'NEX Sesame Street Best Friends on the Farm building set is available at toy retailers and at http://www.knex.com.
About K'NEX Brands
Founded in 1992, K'NEX Brands, the world's most innovative construction toy company, was established to make and sell what has become one of the world's leading integrated construction systems for children. Winner of over 200 international awards and recognitions, K'NEX is America's building toy company focused on Building Worlds Kids Love, and encourages youngsters to "imagine, build and play." For more information, please visit http://www.knex.com.
About Sesame Workshop
Sesame Workshop is the nonprofit educational organization that changed television forever with the legendary Sesame Street. As the single largest informal educator of young children, local Sesame Street programs produced in countries as diverse as South Africa, Bangladesh and India are making a difference in over 120 nations. Using proprietary research to create engaging and enriching content, Sesame Workshop produces programs such as Dragon Tales and Pinky Dinky Doo. In addition, multimedia needs-driven initiatives provide families tools for addressing such issues as children's health, military deployment and emergency preparedness. As a nonprofit, product proceeds and philanthropic support endow Sesame Workshop's educational research and creative content for children around the world. Learn more at http://www.sesameworkshop.org.
###