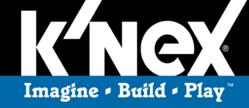 Hatfield, PA (PRWEB) February 09, 2012
K'NEX Brands, the only US construction toy company focused on Building Worlds Kids Love™, is pleased to announce their partnership with Hasbro to create a modern, revitalized line of the classic toy brand: Tinkertoy.
Specially designed for children ages 3 and up, Tinkertoy is a name that stands for wholesome, enduring fun. Created in 1913 after children were seen playing with pencils and empty spools of thread, it developed into a national phenomenon that inspired children to use their imaginations, and was nominated into the National Toy Hall of Fame in 1998.
The K'NEX team did extensive marketing research upon acquiring the Tinkertoy license and developed a sturdy, kid-friendly building set with parts made from plastic instead of wood. This means that Tinkertoy sets from K'NEX snap together and stay together so kids can play with their creations. As with other K'NEX products, the Tinkertoy rods and spools are made in the USA at our Hatfield manufacturing site.
"We are thrilled to welcome Tinkertoy to the K'NEX Brands family," said Michael Araten, President of K'NEX Brands. "We have had fantastic success with Lincoln Logs and are pleased to be able to offer consumers both great pre-school brands on-shelf together!"
Tinkertoy will be available fall 2012 on knex.com and at retailers nationwide.
Animals Building Set
Tinkertoy Animals Building Set lets little ones build a turtle, elephant, and other familiar creatures—or let their imaginations run wild and make their own creations! Set includes over 75 durable, plastic pieces including American made rods & spools, and personality parts, buildable-figure and more! Packaging doubles as a sturdy storage box with lid and handle for portability! Suggested retail price is $27.99. Available fall 2012.
Train Building Set
The Tinkertoy Train Building set includes 150 durable, plastic pieces and allows you to build a train, station and more! Set includes American made rods & spools, wheels, eyes, buildable figures and more! Package also doubles as a sturdy, storage box complete with a lid and handle for portability! Suggested retail price is $43.99. Available fall 2012.
About K'NEX Brands
Founded in 1992, K'NEX Brands, the world's most innovative construction toy company, was established to make and sell what has become one of the world's leading integrated construction systems for children. Winner of over 200 international awards and recognitions, K'NEX is America's building toy company focused on Building Worlds Kids Love, and encourages youngsters to "imagine, build and play." Since 1992, The Rodon Group, a subsidiary of K'NEX Brands, L.P., has manufactured over 30 billion parts for the K'NEX building toy system. For more information, please visit http://www.knex.com or http://www.rodongroup.com.
About Hasbro
Hasbro, Inc. is a branded play company providing children and families around the world with a wide-range of immersive entertainment offerings based on the Company's world class brand portfolio. From toys and games, to television programming, motion pictures, video games and a comprehensive licensing program, Hasbro strives to delight its customers through the strategic leveraging of well-known and beloved brands. TINKERTOY is a trademark of Hasbro and is used with permission. © 2012 Hasbro, Inc. All Rights Reserved.
###