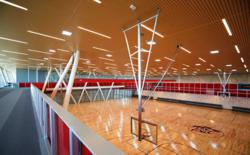 Honestly, there are simply too many wonderful features in this building [...] It's beautiful and incredibly functional. It's an owner/operator's dream.
Northridge, CA (PRWEB) February 09, 2012
Already a celebrated piece of architecture, the Student Recreation Center at California State University (CSU) Northridge opens to rave reviews. Measuring a whopping 138,000 square feet, the center houses two outdoor pools, basketball, volleyball and badminton courts, a comprehensive weight-training and fitness zone, jogging track, and a 40-foot rock climbing wall—the tallest offered by any school in the CSU system. Designed by California-based green planning and design firm LPA Inc., the facility has been recognized—prior to completion—with awards from the American Institute of Architects (AIA) in both Orange County and the San Fernando Valley.
Located on the outer fringe of CSU Northridge, the building soars 58 feet above campus and delineates a new campus edge. The east façade is mostly glass, which creates a "human billboard" that lets pedestrians see what's taking place inside.
The folding profile of the building allows for numerous sustainable design features which include displacement ventilation, solar control fins and screens, use of recycled and low-emitting materials, water-efficient California native landscaping, low-flow plumbing fixtures, a rooftop photovoltaic solar array, rainwater harvesting, use of Forest Stewardship Council (FSC) certified wood products, and natural daylight for 90 percent of the usable spaces.
"Honestly, there are simply too many wonderful features in this building to pick just one: I love the wood finishes, the color selection, the way the inside of the facility flows naturally into the outside, the pool, the landscaping, the studios, and the amazing rock wall at the entrance of the facility!" says CSU Northridge University Student Union Executive Director Debra Hammond. "I love it all. It's beautiful and incredibly functional. It's an owner/operator's dream."
Part of the school's mission to create a "model" sustainable campus, the student recreation center is designed and constructed to achieve Leadership in Energy and Environmental Design (LEED) Gold-level certification. LEED certification provides independent, third-party verification that a building was designed and built using strategies that achieve high performance in sustainable site development, water savings, energy efficiency, materials selection and indoor environmental quality.
Building Information Modeling (BIM) tools were used to create the recreation center's transparent, elongated design. Early solar-shading studies resulted in the design of louvers that shade the east-facing glass, yet allow for views of playing fields and the mountains beyond. Use of a repetitive structural model—along with cost-effective corrugated metal skin—for the building's exterior offset the costs of other, more expensive materials. Vertical, perforated aluminum fins control direct sunlight during morning hours while the gently sloped roof drives the removal of hot air, displacement ventilation, and returns it to ductwork at the top of the ceiling.
"We are truly grateful for LPA's creativity, vision, and masterful ability to take our ideas and design a breathtaking and functional facility and surrounding landscape," adds CSU Northridge Marketing and Programs Associate Director Shannon Krajewski.
The $62.3 million green gymnasium was commissioned by CSU Northridge students and funded through a special fee they voted to pay, and have been paying since 2007. LPA's next projects on the campus include a feasibility study for a 60,000-square-foot classroom and administration building, and the design of a 130,120-square-foot synthetic recreation field, which the Student Recreation Center will overlook, to be completed in 2013.
"They take the time to actually educate the students about what we're building, and what we're trying to create here," said Hammond, about her experience with LPA, during opening day remarks. "They're easy to work with. They're incredibly responsive, and more important than any of that, they designed a building that is beautiful and functional. We've worked with a lot of architects that design beautiful buildings, but you can't do what is intended to be done in them—and that's the difference."
For more information, or to sign up to take a tour of the Student Recreation Center at California State University Northridge, visit src.csun.edu.
California State University Northridge
18111 Nordhoff Street
Northridge, CA 91330
(818) 677-5434
src(at)csun(dot)edu
About California State University Northridge
California State University, Northridge is a regionally focused, nationally recognized university serving more than 34,000 full- and part-time students in the San Fernando Valley and surrounding areas. Founded in 1958, Cal State Northridge is among the largest universities in the nation and is ranked among the top universities for bachelor¹s degrees awarded to minority students. It has nine colleges and more than 2,000 faculty members who teach courses leading to bachelor¹s degrees in 69 disciplines, master¹s degrees in 58 fields and doctorates in education and physical therapy, as well as 28 teaching credential programs. Continuously evolving and changing to meet the needs of California and the nation at large, the university is home to dozens of acclaimed programs where students gain valuable hands-on experience working alongside faculty and industry professionals, whether in the sciences, health care and engineering or education, political science, the arts and the social sciences. For more information, visit csun.edu.
About LPA Inc.
Founded in 1965, LPA has more than 230 employees with offices in Irvine, Roseville, and San Diego, Calif. The firm provides services in architecture, sustainability, planning, interior design, landscape architecture, engineering, and graphics. There is no "Sustainability Director," at LPA. Instead, more than 79% of the professionals are LEED accredited, including the Human Resources Director and CFO. With extensive experience in public and private architecture, LPA designs a diversity of facilities that span from K-12 schools, colleges and universities, to corporate and civic establishments. More than 500 major design awards attest to LPA's commitment to design excellence. For more information, visit lpainc.com.
###