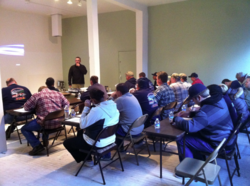 Dunsmuir, CA (PRWEB) February 09, 2012
FireWhat Inc., a Dunsmuir, CA start-up, has added in-house training to its already deep well of firefighting resources. Classes are taught in conjunction with the College of the Siskiyous, and students will receive fully accredited certifications and college credit. The course offerings are taught along specific guidelines by qualified and respected instructors with impressive firefighting careers.
Firefighter training is an essential and never-ending process. Taking classes, even ones in areas a firefighter may already be qualified, continuously sharpens skills and conditions the mind, keeping reaction time during an emergency low and professional focus high.
Classes are open for registration. Anyone, not just firefighters, are welcome to sign up. FireWhat provides training services in different locations if necessary. The newest class offered by FireWhat is the FSTEP Basic Pump Operations class February 24-25. Tuition for this class is $130. To register, visit firewhat.com/classes.
About FireWhat Inc.
FireWhat Inc. is a start-up company founded by an MIT grad and two professional firefighters. FireWhat's mission is to provide a professional platform that inspires the highest quality of emergency service training and education. Through development of web and mobile products, FireWhat Inc. seeks to update the antiquated delivery of emergency services training and to incorporate innovation into a technology-deprived industry.
###