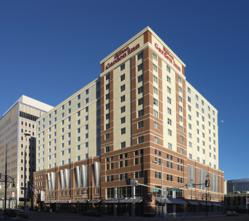 Denver, Colorado (PRWEB) February 13, 2012
The Hilton Garden Inn Hotel Denver Downtown was presented with the 2011 Social Media Buzz Award trophy from Hilton Worldwide honoring their achievement in promoting the hotel through the usage of social media. The trophy will be on display at the downtown hotel throughout 2012.
Out of the 530 Hilton Garden Inn hotels worldwide 70 hotels were chosen for these awards. Trophies were given out based on year-end results using factors such as the Satisfaction and Loyalty Tracking survey and other measurement toolsets.
The Hilton Garden Inn Hotel Denver Downtown is a premiere hotel located in the heart of downtown Denver Colorado. Situated directly across the street from the Colorado Convention Center, just one block from the 16th Street Mall and a brief walk to the Denver theatre district, the Hilton Garden Inn is close to everything one could want in a downtown Denver hotel location. Come and stay with us for a weekend downtown getaway while seeing a show, enjoy the delicacies in our famous PI Kitchen + Bar Restaurant, and take a stroll on the famous 16th Street Mall. Whether you're here on business or pleasure, the Hilton Garden Inn Denver Downtown is close to all and a perfect fit for all Denver travelers. You can Friend Us Here on Facebook for special awards and hotel discounts.
###