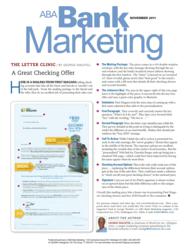 Rochester, New York (PRWEB) February 08, 2012
In a highly competitive marketplace, how does a bank convince customers to open a checking account with them?
First Niagara Bank did it with a direct mail package that featured a great offer: Free ATM access anywhere in the country. Next they added clear, compelling copy, a head-to-head competitive comparison and an easy-to-read design, resulting in a direct mail package that "hits a home run," according to ABA Bank Marketing, which reviewed the package in November's "The Letter Clinic" column.
"Overall, this mailing piece hits a home run in presenting First Niagara's checking choices and free ATM benefit to the consumer," wrote George Wachtel in "The Letter Clinic," a column he edits for ABA Bank Marketing.
The mailing was developed by Catalyst, a direct and digital marketing agency headquartered in Rochester, New York, with whom First Niagara works closely.
"We were delighted to see Catalyst's work reviewed so favorably in ABA Bank Marketing," said Michael Osborn, Catalyst's managing director. "It's the banking industry's most prestigious marketing publication."
According to Laurie Brammer, director of branding and advertising for First Niagara Financial Group, the mailing has exceeded the bank's expectations.
"It's produced record numbers of new checking account customers," she said. "We couldn't be happier."
Read the full article here.
About First Niagara
First Niagara (http://www.fnfg.com), through its wholly owned subsidiary, First Niagara Bank, N.A., is a multi-state community-oriented bank that currently has approximately $31 billion in assets, $20 billion in deposits, 333 branches and 5,000 employees, and provides financial services to individuals, families and businesses across upstate New York, Pennsylvania, Connecticut, and Massachusetts.
About Catalyst
Catalyst (http://www.catalystinc.com) is a direct and digital marketing agency that helps clients acquire, retain and develop long-term relationships with their customers. We combine intellectual curiosity and inquisitiveness with hard-core analytics, deep customer insight and a measurement mindset to take the guesswork out of marketing decisions. We call it Science + Soul. Headquartered in Rochester, NY, our clients include AAA, Assurant Health, Eastman Kodak Company, First Niagara Financial Group, GE Money, Heraeus Kulzer, Neff Motivation Inc., Oreck, and Valvoline, among others.
Follow us on:
Facebook:
http://www.facebook.com/scienceplussoul
Twitter:
http://twitter.com/scienceplussoul/
LinkedIn:
http://www.linkedin.com/company/26721
# # #