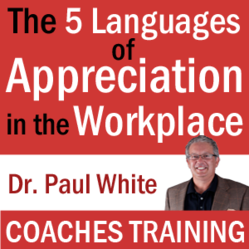 Overland Park, KS (PRWEB) February 08, 2012
Gateway Instructional Design Group is proud to announce the release of its latest eLearning course on http://www.ULearn24.com Appreciation At Work by Dr. Paul White. This self-paced, interactive course is designed for trainers and coaches to become certified Appreciation At Work facilitators and add value to their training business.
Appreciation At Work is based on the bestselling book "The 5 Languages of Appreciation in the Workplace" (Moody) by Dr. Paul White and Dr. Gary Chapman. In this online, self-pace, training course, trainers and coaches will learn how to help supervisors and managers effectively communicate appreciation and encouragement to their employees, resulting in higher levels of job satisfaction, healthier relationships between managers and employees, and decreased cases of burnout. Ideal for both the profit and non-profit sectors, the principles presented in this course have a proven history of success in businesses, schools, medical offices, churches, and industry.
Publishers Weekly says about "The 5 Languages of Appreciation in the Workplace": This is a well-researched, useful book for business leaders that offers a much needed message that won't wear out with repetition: "If people enjoy their work and feel appreciated…they are far more likely to have organizational loyalty and work hard." And Elizabeth H. King, PhD, President & CEO, Wichita State University Foundation says "Over the last few months, I have seen a marked and heightened effort to personalize appreciation not only by supervisors with their staff members but also on a peer".
Dr. Paul White is a psychologist, author, speaker, and consultant who makes work relationships work. For the past 20 years, he's improved numerous businesses, wealthy family estates, and non-profit organizations.
The Director of Family Coaching and Personal Development for Navitas Wealth Advisors, Inc., Dr. White has served many multimillionaire and high profile business families to help develop wealth transfer plans and diminish tension around business succession issues. Additionally, he is engaged by national organizations and top universities to consult with their high net worth donors.
As a speaker, Dr. White has given lectures around the world, including North America, Europe, South America, Asia, and the Caribbean. His expertise has been requested by the Milken Institute, Napa Valley Community Foundation, Houston Community Foundation, and Princeton University. He has published extensively in both journals devoted to business and wealth transfer issues such as Worth, Journal of Financial Planning, Journal of Practical Estate Planning) as well as psychological journals like the Journal of School Psychology, Individual Psychology, and Journal of Educational Research.
Dr. White was graduated Magna Cum Laude from Wheaton College, earned his Masters of Counseling from Arizona State University, and received his Ph.D. in Counseling Psychology from Georgia State University, where he received the Outstanding Doctoral Student award during his final year of study.
Ulearn24.com is owned and operated by Gateway Instructional Design Group, LLC specializing in affordable and effective web-based teaching solutions for authors, small businesses, schools, non-profits, faith based organizations and others.
Using proven course design methods, quality course authoring tools, secure learning management systems, state of the art multi-media production and qualified subject matter experts, Gateway makes online courses come alive and show measurable results.
Learn more at http://www.ulearn24.com or http://www.drpaulwhite.com
###