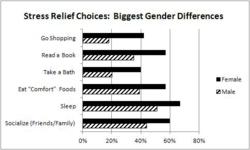 While women have more stressors in their lives, they also use more diverse ways of relieving stress.
Atlanta, GA (PRWEB) February 09, 2012
Polaris Marketing Research Inc. announced today additional findings from their latest survey of online Americans, supported by Research Now for data collection and analysis: Women and men respondents report different sources of stress and different ways of dealing with their stress.
Women respondents were significantly more likely to report financial issues, lack of time, family problems, living situation and relationship issues as causing them stress. Men respondents, on the other hand were more likely to say that work issues were causing their stress. Men were also more likely to say they had "no main source of stress."
For both women and men, watching television is the most frequently cited activity for relieving stress. Seventy percent of women and 64 percent of men say they are "very likely" or "likely" to watch television to relieve stress.
"While women have more stressors in their lives, they also use more diverse ways of relieving stress. Women are also significantly more likely than men to sleep, listen to music, surf the Internet, socialize, read a book, or eat their favorite 'comfort foods'. In fact, men were only more significantly likely than women to play video games to relieve stress," said Polaris President Jan Carlson.
Women and men's likelihood to engage in these activities to relieve stress did not differ by gender: work on a hobby/crafts, take a vacation, have an alcoholic beverage, and meditate.
About Polaris Marketing Research
Founded by Jan Carlson, Polaris Marketing Research is a full-service firm that provides state-of-the-art online interactive marketing research reporting, interviewing and data collection, quantitative and qualitative research expertise and personalized project management.
Atlanta-based Polaris Marketing Research is affiliated with the Council of American Survey Research Organizations, the American Marketing Association and the American Society for Quality.
About Research Now
Research Now is the leading global online sampling and online data collection company. With over 6 million panelists in 38 countries worldwide, Research Now enables companies to listen to and interact with real consumers and business decision makers in order to make key business decisions. Research Now offers a full suite of data collection services, including social media sampling, and operates the Valued Opinions™ Panel and e-Rewards® Opinion Panels. The company has a multilingual staff located in 24 offices around the globe and has been recognized for four consecutive years as the industry leader in client satisfaction. Visit http://www.researchnow.com to learn more.
###