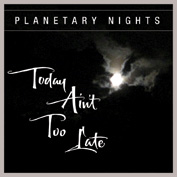 New York, NY (PRWEB) February 08, 2012
Planetary Nights singer-songwriter R.J. McSweeney has released his second studio album Today Ain't Too Late, following up on the success of Elliptical Motion. The new album contains 14 original Americana songs ranging from hard rockers to soulful ballads.
Produced by roots rock veteran Eric "Roscoe" Ambel, who contributed his renowned guitar work and arrangements, the songs include the collective talent of Kelley Looney on bass, Rob Arthur on piano and organ, Phil Cimino on drums, as well as backing vocals by Mary Lee Kortes, Elaine Caswell, Nicki Richards and Dorie Colangelo.
With a fast growing fan base and network television licensing of several songs from the first album, Planetary Nights delivers a vibrant array of unique songs sure to please fans of Americana music.
Additional information on Planetary Nights is at http://www.planetarynights.com.
###