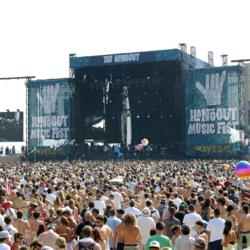 We are thrilled to be partnering with Hangout Music Fest to ensure the guest experience is nothing but exceptional; that they leave the festival looking for time to come back for a non-festival vacation. -Emily Gonzalez
Gulf Shores, AL (PRWEB) February 08, 2012
February 7, 2012 – Following a leak in the upcoming Hangout Music Fest line-up, per the camp of Jack White, former White Stripes and Raconteurs front man, the festival promoters released the complete line-up to the public a little earlier than expected. Beginning at 12:00 a.m. CST, the festival released the names of the performers on their Facebook page, over the course of a three hour period. With each group of names, festival veterans and newcomers alike were elated to see that some fresh performers as well as some old friends would be making the journey to the sugar white sands of Gulf Shores for this one of a kind concert experience.
The festival, scheduled for May 18-20 of this year, is expected to sell out as quickly, if not more so, than the previous year's event. With 35,000 3-Day passes available at various levels, Gulf Shores and Orange Beach will once again be looking towards a busy weekend for restaurants, shops and lodging providers.
Kaiser Realty, Inc. is pleased to once again be a lodging partner for the upcoming festival, and is excited to offer guests a fine tuned, streamlined system for arranging their accommodations. During the booking process, event attendees are able to purchase tickets for the festival immediately, and pick them up at check in. Upon receipt of the tickets, guests may proceed immediately to an in-house Complimentary Concierge Ticket Representative and exchange their tickets for entry wristbands without ever leading the Kaiser Realty, Inc. offices.
"The past two Hangout Music Festival events have brought in tens of thousands of guests from around the country who have never experienced our beautiful area and southern hospitality." stated Emily Gonzalez, Director of Marketing and Public Relations for Kaiser Realty, Inc. "We are thrilled to be partnering with Hangout Music Fest to ensure the guest experience is nothing but exceptional; that they leave the festival looking for time to come back for a non-festival vacation."
To book your beach home or condo and purchase your 3-Day festival passes, please visit http://www.KaiserRealty.com/Hangout or speak with a Reservation Professional by calling (800) 225-4853.
Photo: "HMF_Square.jpg" attached.
Caption: Day Two of the 2011 Hangout Music Fest overlooking the Big Kahuna Stage.
Contact:
(251) 968-6868
Follow Up Questions: Emily E. Gonzalez, Marketing/Public Relations Director EmilyG(at)KaiserRealty(dot)com
Written and Distributed By: Adam Pfaff, Public Relations Coordinator AdamP(at)KaiserRealty(dot)com
http://www.KaiserRealty.com
About Kaiser Realty, Inc.: Since 1980, Kaiser Realty, Inc. has been renting, selling and managing the finest vacation homes and condominiums available in Gulf Shores and Orange Beach. With the blue green waters and sugar white sand beaches of the Gulf Coast, it is hard to find a more beautiful location for your next home or home-away-from-home. Offering Gulf front condominiums ranging from 1 to 6 bedrooms and vacation homes sleeping up to 30 people, Kaiser Realty will help you create the perfect vacation, retreat, wedding or work function. Visit us at http://www.KaiserRealty.com or call (800) 225-4853 to speak with one of our Reservation Professionals, Sales Representatives or Rental Managers today!
Corporate Mission: "Kaiser Realty, Inc. has a tradition of fulfilling dreams for our customers, our employees and in our community. Our philosophy is to deliver exceptional, professional service with integrity, enthusiasm and a genuine caring attitude. Whether it's for a vacation or a lifetime, our family is committed to yours."
###