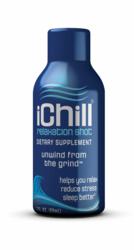 Irvington, TX (PRWEB) February 09, 2012
According to researchers at the Jefferson College of Pharmacy at Thomas Jefferson University, an estimated seventy five percent of women over age 50 experience bothersome symptoms as the result of menopause, which include night sweats, hot flashes, fatigue and restless sleep. Women who have been searching for natural alternatives to combat these symptoms and restore their bodies' natural balance now have a solution. Their search can end with one small 2 oz. sleep aid shot, iChill.
iChill is a natural, carbohydrate-free and calorie-free refreshing blend of Melatonin, Valerian root, Rose Hips and B vitamins. In a sweet Blissful Berry flavor, iChill's Melatonin ingredient has been shown to help regulate the timing and release of female reproductive hormones, which are the primary cause of hot flashes and night sweats. Typically, women also reported experiencing restless or poor sleep. Melatonin can act as a relaxation aid and promote more restful, efficient sleep. Valerian root has been shown to work as a natural sedative herb to help contend with disrupted and unstable sleep patterns caused by irritability, fatigue and anxiety.
iChill's other active ingredients include Rose Hips, which contain a fruitful supply of vitamin C and vitamin B. Low levels of vitamin C, an essential nutrient, are found in menopausal women. iChill helps fill the vitamin C void effectively, combating depression, bone loss and skin problems. B vitamins are often called 'stress vitamins' and are known to quell anxiety and tension, and boost mood and energy.
Women can reclaim their bodies' natural balance with iChill, sold by the case or in packs of 2; the little blue sleep shot fits in every purse, tote or bag and is safe for airport travel. For more information or a store locator please visit http://www.ichill.com.
About iChill
iChill is the brainchild of entrepreneurial brothers Greg and David Figueroa who have been touted by Entrepreneur Magazine as among the hottest young entrepreneurs in the country. The Figueroa's iChill is leading the relaxation drink trend in the growing beverage market. The idea for iChill was sparked by the energy drink boom currently occurring in the United States. Looking to create something completely original in the beverage industry, the brothers concocted the opposite of the popular energy shot, a relaxation and sleep aid shot. After research and development, the Dallas and New Orleans-based entrepreneurs created the iChill relaxation shot, an entirely new way for people to unwind and relax from the day-to-day grind.
EDITOR'S NOTE: For more information about iChill, or to arrange to speak with a company spokesperson please contact Nancy Trent or Pamela Wadler at 212-966-0024.
###